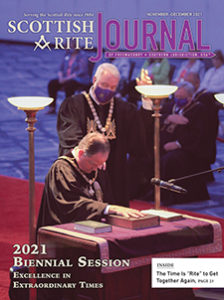 In this magazine:
K. Andrus, The Cows Don't Know It's Christmas: Texas Brother's Poem Honors Father while Helping Children
B.C. Ruli, A Biennial for Extraordinary Times
M. Dreisonstok, The Goethe Collection at the House of the Temple
J. Bozeman, The Flammarion Engraving: The Masonic Print that Isn't
A. Kriegel, Chanukah: Festive, Jewish, and Masonic
D. Hogan, Embrace the Zugzwang
M. Edwards, Symbols and Secrets: Bringing Masonry to the Small Screen
M. Smith, The Time Is "Rite" to Get Together Again!
M. SzramoskiIntendant of the Building Society
M. Edwards, Drawing Inspiration: Renowned Masonic Artist Travis Simpkins Brings His Artistry in Charcoal to the Journal
M.C. Lee, Nine
Plus, the Grand Commander's Message, Cornerstones of the Craft, Chips from the Quarry, Current Interest, Notes from The Northern Light, The Masonic Traveler, Book Reviews, and Masonic Puzzle.