Adopt-a-Book Program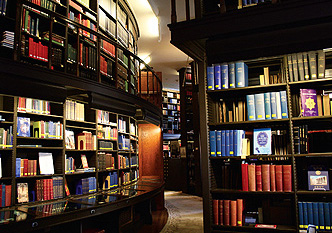 One way to support the Rebuilding the Temple Campaign is by adopting a book in the Library and becoming an Architect of the Library.
Our Library houses over 250,000 books, manuscripts and other publications dating from the 14th century to the present. The Library's collection includes important works that are part of our Masonic heritage, such as The Constitutions of the Free-Masons by James Anderson, printed in London, England in 1723, the first printed promulgation of Masonic Law for Speculative Freemasonry issued by the first Grand Lodge of England. Our collection also includes the Benjamin Franklin reprint of Anderson's Constitutions published by Benjamin Franklin at his press in Philadelphia, 1734—the first Masonic book printed in America. Franklin hand typeset and printed 130 copies, less than 20 of which are known to exist today. Additionally, our Library has important non-Masonic works by great authors such as Johann Wolfgang von Goethe and Voltaire.
By adopting a book or collection in the Adopt-A-Book Program, you will directly benefit the Rebuilding the Temple Campaign, providing the financial support necessary for us to undertake the renovations to the Temple Room, the Atrium, Executive Chamber, the Library and the Archives. For example, we will upgrade the building's electrical and HVAC systems so that the Library will have better lighting and humidity and temperature controls to better preserve our existing collections. We also will create a room with special environmental controls to house the rare books in our Collections.
You may adopt a book in the library for $250 (not including rare books). Upon receipt of your donation, the Librarian will select the book you will sponsor, and your name as the book sponsor will be listed in the online Library catalog. In addition, we will honor you by displaying your name in a Donor Kiosk to be created in the House of the Temple upon completion of the Rebuilding the Temple Campaign. Finally, you will receive a special thank you letter from the Supreme Council Librarian with name of the book or collection you are sponsoring, a certificate honoring you as an "Architect of the Library," and you will be sent a commemorative brass House of the Temple bookmark.
You also can make a gift in honor of someone else, such as a newly raised Brother or a newly coroneted 33° member, and we will send a notification of the gift, with the Architect of the Library certificate and the commemorative bookmark, to your honoree or their family. The name of the person you are honoring will be added to the Donor Kiosk.
For more information about the Adopt-A-Book program or to adopt a rare book, contact Caitlyn Kent of the Development Office at 202–777–3111 or ckent@scottishrite.org.
(Library photo by Jeri E. Walker, The Scottish Rite Journal)