Internships & Job Opportunities
Docent & Museum Internships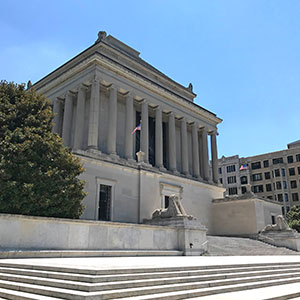 The Supreme Council offers a unique opportunity for undergraduate and graduate students to serve as interns at its headquarters in Washington, DC. Students from a wide variety of academic fields who are interested in non-profit, museum, philanthropic, fraternal, and historic organizations, will receive a first-hand opportunity to work with leaders of the organization as well as national and international visitors who tour the House of the Temple.
The Internship Program at the Supreme Council, 33°, Scottish Rite of Freemasonry, is designed to provide students with an opportunity to experience a professional work environment while studying in the Washington, DC-metro area. As a result, students develop essential skills which apply classroom theory and technique to real world situations.
At the Supreme Council, we are excited to offer two internship programs:
1

Docent Internships

Any undergraduate or graduate student from any academic field can apply for this internship.

This internship provides students the opportunity to improve their public speaking, experience the professional workplace, and engage with visitors around the world. Interns will give tours of the historic building 85–90% of the time. The remaining 10–15% involves working on special projects that come up from various departments or occasional clerical work.

Required Skills for Docent Internship:
Effective and tactful oral and written communication skills with a diverse public;
Ability to effectively present information and respond to questions from groups and/or individuals;
Ability to adapt and maintain flexibility under a variety of circumstances (tours, special events, etc.);
Ability to present an upbeat attitude and to work with minimum supervision;
Ability to perform multiple tasks; will serve as liaison to internal and external constituencies who are attending and/or hosting events;
Willingness to show guests and visitors our small gift shop and conclude museum tours with possible gift shop sales;
Flexibility to work various shifts during the regular tour hours according to class schedule.
2

Museum Cataloging Internships

Only undergraduates, graduates, or recent graduates in a museum studies, library science, or similar degree program can apply and are eligible for this internship.

This internship gives current undergraduates and graduate students the opportunity to take what they have learned in their studies and apply it in the workplace. The primary focus of this internship is the digitization of rare books and photos from the House of the Temple Collections. Working under the supervision of the Museum Curator, interns will:
Use overhead document scanners to scan and preserve book collections and make them available for online use;
Ensure the condition and preservation of books and documents after they are scanned;
Catalog, scan, and enter photos into the digitized photo archive;
Help implement policies and procedures for the continued documentation and maintenance of the museum and library collections;
Rehouse objects from storage locations in the building using best practices for collections storage and preservation;
Have the opportunity to contribute articles and social media content based on museum and library collections for inclusion in the Scottish Rite's magazine and official House of the Temple social media platforms, in conjunction with Communications department and museum curator.
Application Deadline
Applications for all internships are considered throughout the year on a space-available basis, so there is no deadline for submitting an internship application.
How to Apply
Prospective interns are required to submit a résumé or curriculum vitae and a one-page cover letter letting us know why you are interested in the internship and what sets you apart from other applicants. Please email these materials to the appropriate address below.
Docent Internship
Docent Internship Director
202–777–3160
internships@scottishrite.org
Museum Cataloging Internship
Museum Curator
202–777–3123
curator@scottishrite.org
Mailing Address:
House of the Temple
Attn. [Docent Internship Director or Museum Curator]
1733 16th Street, NW
Washington, DC 20009
Frequently Asked Questions
Q: Who is eligible to apply?
Undergraduate and graduate students currently enrolled in a community college, college, or university.
Q: Are internships paid?
Yes. While it is important to choose internship opportunities based on the experience they will provide, we offer a competitive rate for interns. If you choose to intern without pay, make sure you apply for academic credit (see below).
Q: How do I register for academic credit for my internship?
This typically is arranged through each student's school, as each school has different rules and regulations on how to receive credit. If an applicant's college or university offers credit for internships, the Supreme Council will work with the school to match academic requirements. Necessary forms should be submitted upon acceptance to the Supreme Council intern program.
Q: How many hours per week will I work?
Interns work according to their own course schedules. While most only work about 10 hours per week, interns can work up to 28 hours per week, depending on course load and class schedules.
Q: How long is the internship?
The internship follows the semester system. Most interns will work a minimum of 15 weeks, or one semester. The exception to this is the summer session, where interns will work between 10 and 15 weeks. Some interns elect to remain for an additional semester. There is enough flexibility to provide opportunities for students on quarter systems to participate on other academic schedules.
If a student interns during the fall and also wants to intern for the spring or summer, they may do so as long as he or she is currently enrolled in school.
Q: Can I reapply if unsuccessful?
Yes. Applicants are kept on file for one year. If you would like your file reactivated, please email or mail your request and updated résumé.
Q: Do you provide housing?
The Supreme Council does not provide housing for interns but will provide information about possible housing opportunities and living in the Washington DC-metro area.
In the administration of its internship program, neither the Supreme Council nor its affiliated foundations discriminate on the basis of race, color, religion, sex, national origin, age, marital status, personal appearance, family responsibilities, physical or mental disability, political affiliation, status as a veteran, or any other basis protected by applicable Federal and District of Columbia laws.