General Information – Library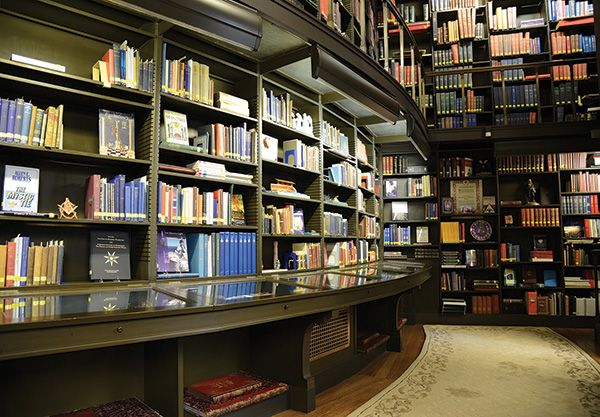 Library Hours
**REOPENING UPDATE** The House of the Temple is now fully open with normal operating hours, Monday through Thursday. ** Per the July 29, 2021 Mayor's Order, masks are now required for everyone—regardless of vaccination status—in indoor public settings in Washington, D.C. **
The House of the Temple Library is open Monday–Thursday, 8 am to 5 pm.
The library is closed Fridays and all Federal holidays.
Visitors are strongly encouraged to call 202–232–3579 or check the official Twitter account (@MasonicMuseum) prior to coming to confirm the library will be open.
Reading Room Etiquette
The House of the Temple Library & Museum is meant to be used as a quiet space for study and research. Please observe the following rules during your visit:
No smoking/vaping, eating, or drinking.
Researchers using rare books or manuscripts are asked to take notes in pencil only.
Portable computers are permitted, but please use headphones when listening to audio.
Searching the Collections
The librarians in the Supreme Council Library are striving to have the best Masonic Library in the world. We are constantly updating and adding to our collection. If you are interested in a particular collection of books we have, to locate these you would:
go to the online catalog ;
at the top of the page, go to SEARCH then ADVANCED SEARCH then go to the SERIES search field;
type in the collection of your search:

The Albert Pike Collection
Anti-Masonic Pamphlets
Burnsiana (Robert Burns)
Footsteps of Walgren 1851–1875
Footsteps of Walgren 1876–1900
International Masonic Collection
International Masonic Periodicals
Lincolnia Collection
Masonic Addresses
Masonic Collection
Masonic Special Collection
Special Collection (general books)
The Taylor Collection
Once you pick the series, you will then see how many books are in that collection, and they will all be in alphabetical order.
The online catalogue is limitless on how you can search; this is just and example on how to do a "Series" search. If you ever need help, you can always call 202–232–3579 or email library@scottishrite.org, and someone will respond to you as soon as possible.
Reference Links
Masonic Libraries
Classical Architecture
Institute of Classical Architecture and Art video Series: "The Foundations of Classical Architecture"
Contact Us
The staff of the Library, Archives and Museum is available Monday–Thursday to assist the public in the use of the House of the Temple's collections.
We encourage researchers with special requests to contact us in advance so that sources can be ready for their use.