Scottish Rite for Children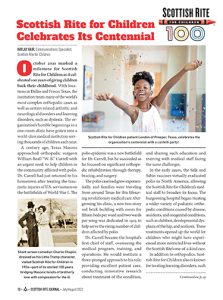 "Giving Children Back Their Childhood"
Located in Dallas and Frisco, Texas, Scottish Rite for Children (SRC) was born more than 100 years ago in 1921, when Scottish Rite Masons in the Orient of Texas sought the help of Dr. William B. Carrell to assist area children stricken with polio. Since then, the SRC has expanded by leaps and bounds to three locations, which treat thousands of children each year for orthopedic, neurological, and learning disorders. To this day, Scottish Rite Masons sit on the SRC's board of trustees.
To learn more about the hospital's amazing work:
Visit Scottish Rite for Children.
Read "Scottish Rite for Children Celebrates Its Centennial" in the July/August 2022 Scottish Rite Journal.