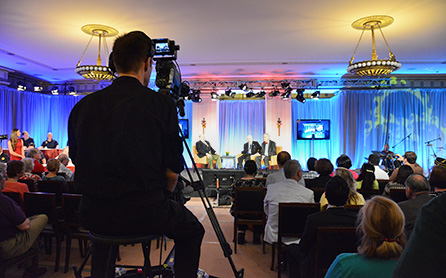 The House of the Temple held its 4th-annual Celebrating the Craft (CTC) Saturday, May 16, 2015, to raise money for the Rebuilding the Temple Campaign and Orient charities. Thank you to all those who tuned in, participated, and donated! The next CTC will air LIVE Saturday, May 21, 2016. Stay tuned for updates!
 Watch Clips from the 2015 Show!
More about the Celebrating the Craft
For the last four years, the George Washington Banquet Hall at the House of the Temple in Washington, D.C., has been converted into a television studio to serve as ground zero for a Masonic extravaganza featuring music, comedy, celebrities, and never-before-seen video content from the House of the Temple. During the evening, viewers learn more about the Scottish Rite and the importance of the House of the Temple, its artifacts, museum, and library.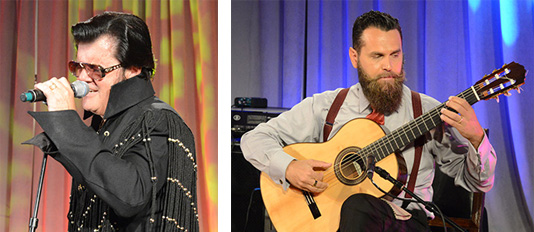 (Above) Since 2013, the Scottish Rite, SJ, has held the Scottish Rite Has Talent contest, the finalists of which are invited to come to D.C. to perform live during the CTC. Among those Scottish Rite Masons making their CTC debut in 2015 were (l. to r.) Elvis tribute artist Frank Raines, 32°, Valley of Washington, DC, and classical guitarist Flavio Apro, 32°, Valley of Orange Co., CA.
You can make a donation via phone or online. Your donation may be split between the Rebuilding the Temple Campaign and the Scottish Rite charities in the your Orient as directed by your SGIG or Deputy.
For more information about the CTC, please contact Elena Dixon, Special Events Coordinator, at edixon@scottishrite.org or 1–866–448–3773.
(Photography: Bethany Rowe, The Scottish Rite Journal)