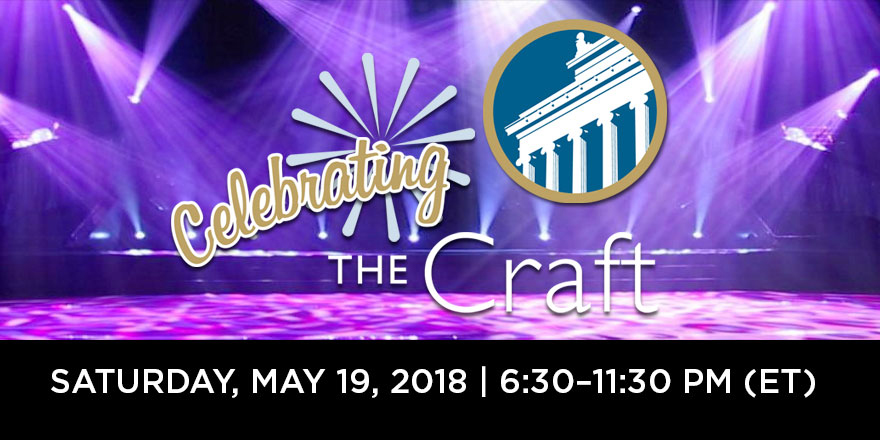 MARK YOUR CALENDARS—the 2018 Celebrating the Craft (CTC) will air LIVE via the web Saturday, May 19, from 6:30–11:30 pm (Eastern Time)!

---
We are accepting talent submissions for Scottish Rite Has Talent through Monday, March 12, 2018. Please visit the Scottish Rite Has Talent page for more information.
---
**NEW FOR 2018** Learn about "The Rite Change" Collection.
---
Clips from our 2017 CTC:
About CTC
• Download the CTC Participation Guide (PDF format)
CTC is an evening of entertainment and learning that showcases Freemasonry, the Scottish Rite, and the talents and accomplishments of Brothers throughout the Southern Jurisdiction.
CTC features performances by Scottish Rite brothers and interviews with families and clinicians from our RiteCare Scottish Rite Childhood Language Program (SRCLP). We also video chat with Valleys celebrating around the nation.
Giving to CTC
Donors may choose to split their gift 50/50 between:
1. Scottish Rite 501(c)(3) charities in their Valley to be distributed by the Valley Secretary; and
2. the House of the Temple Historic Preservation Foundation, Inc.
All donations are tax-deductible to the extent allowed by law. The House of the Temple Historic Preservation Foundation, Inc., supports the Rebuilding the Temple Campaign to preserve and restore the historic House of the Temple. All donors will receive a letter of acknowledgement of their tax-deductible donation.
For more information about CTC, please contact Matt Szramoski at mszramoski@scottishrite.org or 202–777–3143.