Scottish Rite Foundation, SJ, USA, Inc.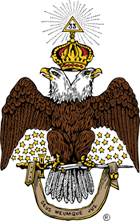 The Supreme Council, 33°, created the Scottish Rite Foundation, S.J., U.S.A., Inc. (Scottish Rite Foundation), to support philanthropic endeavors. Each year, through the Development Office, the Supreme Council seeks donations for the Scottish Rite Foundation's three major programs: RiteCare Scottish Rite Childhood Language Program (SRCLP), scholarships, and national disaster relief.
The Foundation provides start-up funding for new SRCLP facilities and lends support to operations of existing facilities. We have SRCLP facilities in each state in the Southern Jurisdiction and more are in the planning stages. For a list of the SRCLP facilities nationwide, visit the SRCLP Directory.
The Scottish Rite Foundation offers several scholarships for higher education for students seeking a college degree or vocational license. Our scholarship programs encourage the pursuit of higher learning in all categories, including the study of speech pathology and education. Click here to learn more about the scholarships we support.
The Foundation is also dedicated to helping victims of natural disasters such as fires, floods, earthquakes, and hurricanes. Through the Foundation, the Supreme Council provides direct relief to disaster victims and works with other Masonic groups to provide additional assistance.
The Scottish Rite Foundation, S.J., U.S.A., Inc. is a non-profit Maryland corporation recognized as a tax-exempt public charity under Section 501(c)(3) of the Internal Revenue Code of 1986, as amended. Its tax identification number is 52-6054737. Contributions to the Scottish Rite Foundation, S.J., U.S.A., Inc. are tax-deductible to the extent allowed by the law.
For more information on the Scottish Rite Foundation, contact the Development Office at 866–448–3773 or developmentoffice@scottishrite.org.

Disaster Relief Scholarship Fund
Scholarship America launched the Families of Freedom Scholarship Fund on September 17, 2001, in response to the terrorist attacks on September 11, 2001. The Fund's purpose is to provide education assistance for post-secondary study to dependents of those killed or permanently disabled as a result of the terrorist attacks and during the rescue activities relating to those attacks. The beneficiaries of the Fund include airline passengers and crew, World Trade Center and Pentagon workers and visitors, and firefighters, emergency medical personnel and law enforcement personnel injured in the attacks and related rescue efforts.
On September 9, 2002, the Scottish Rite Foundation, S.J., U.S.A., Inc. joined in this effort by launching the Scottish Rite National Disaster Relief Scholarship Fund and allocating to it $1,000,000 to be used for scholarships. Each year, for up to 20 years, the Scottish Rite Foundation, S.J., U.S.A., Inc. will pay $50,000 to the Families of Freedom Scholarship Fund of Scholarship America. This money will be distributed as scholarships to eligible individuals. Scholarships will be for $5,000 each, and up to 10 scholarships can be funded each year. In a brief ceremony on September 9, 2002, the first check for $50,000 was presented to Ill∴ Robert J. Dole, 33° G.C., former Senate Majority Leader and Chair of the Families of Freedom Scholarship Fund.
If you are a victim or a family member of a victim of the September 11th tragedy and would like more information about this scholarship, please contact Scholarship America at (877) 862-0136.