New Scholarship Honors Tar Heel SGIG Bill Brunk, 33°
This article originally appeared in the Jan./Feb. 2021 Scottish Rite Journal.
---
By Speed Hallman, 33°
Valley of Greensboro, North Carolina
---
In November, brethren in the Orient of North Carolina surprised retiring Sovereign Grand Inspector General William B. Brunk, 33°, with the creation of an endowed college scholarship named in his honor. Scottish Rite Masons from across the state gave generously to fund the scholarship through a short, secret, and wildly successful fund-raising campaign.
The William B. Brunk Scholarship was announced November 21 by Grand Commander James D. Cole, 33° during the Orient's virtual reunion. He noted that Brunk has served with distinction as head of Scottish Rite in North Carolina and as a member of the Supreme Council.
"In Bill's case, his sterling character, integrity, and patient wisdom contributed to his significant success in both roles," Cole said. "In North Carolina, he established a strong system of leadership training and membership education that will create a lasting legacy of quality in Scottish Rite. Within our Council, Bill has been a voice of reflective thought and deep wisdom.
"There are few men who have walked this earth who could be considered more Masonic than Bill," Cole said. "Illustrious Bill Brunk is a Mason's Mason."
North Carolina Grand Master Shaun Bradshaw, 33°, who also serves as personal representative in the Valley of Greensboro, said Brunk "is always there with a warm handshake and an attentive ear.... We are all so appreciative of him and wish him the very best as he steps down as our SGIG."
MWBro. Brunk is a forty-year member of Hiram Lodge No. 40 in Raleigh. He served as North Carolina's Grand Master of Masons in 1994 and was crowned Sovereign Grand Inspector General on October 5, 1999. He retired as SGIG on December 31, 2020.
Dr. Brunk earned a bachelor's degree in chemistry from the University of North Carolina at Chapel Hill and graduated first in his class from the UNC School of Dentistry. He practiced orthodontics in Raleigh, volunteered in the county dental clinic, and provided orthodontic treatment to residents of the Masonic Home for Children at Oxford.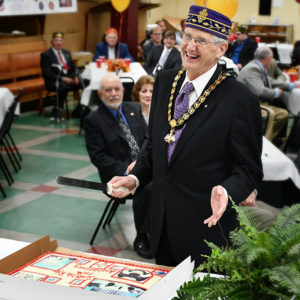 Photo: Ill. Brunk cutting cake during the Valley of Greensboro centennial celebration on October 11, 2017. (Photo:Melody McBride Photography, Nags Head, NC)
The Brunk Scholarship is the first to be established through the Supreme Council's initiative to fund awards for outstanding college students related to Scottish Rite Masons. Two options are available for creating a named scholarship through the Scottish Rite: giving a one-year scholarship, with the entire gift spent to make an award; and funding a permanent endowed scholarship, where the gift is invested and earnings are used to make annual awards. The minimum gift for a one-year award is $1,000 and the minimum to start an endowed award is $50,000. By endowing the Brunk Scholarship, the North Carolina brethren created an enduring honor for their SGIG and supported a cause that is dear to his heart—education.
To date, $66,000+ has been raised for the Brunk Scholarship endowment. This spectacular success is easy to explain. Dedicated volunteers set a goal, enlisted others, crafted a plan, and pursued it relentlessly. Most important of all, the work was done, the calls were made, and the giving flowed in the name of Bill Brunk, a leader, mentor, and friend, who has given so much to each of us and to Scottish Rite Masonry.
To make a gift in Brunk's honor, contact Tom Broderick, KCCH at tbroderick@scottishrite.org or 757–761–4138. For more on the S.R. scholarships see "It's Tough Being in the Middle" in the September/October 2020 issue of Scottish Rite Journal or visit our Scholarship Program Support and National Scholarships pages.
---
Official Portrait of Ill. William B. Brunk, 33°