Be Kind to Your Wallet—Use Your Digital Membership Card!
By Micah I. Evans, 33° • Development Director, Scottish Rite Foundations of Nebraska
"Are you really walking around with a four-inch thick wallet, stuffed with 27 membership cards," my wife asked as I plunked my wallet down on the dresser.
OK, truthfully, I keep my membership cards in a separate wallet, which I only carry when I need it. Thankfully, the House of the Temple has made this task a bit easier.
The Scottish Rite membership portal https://scottishrite.org/members/profile not only helps me keep my membership information up-to-date, informs my home Valley of changes, but also lets me sign up to have my dues automatically billed to my credit card each year so I always remain current on my dues. For my three Valleys—Hastings, Lincoln, and Omaha, Nebraska, as well as the Scottish Rite Research Society—that's a nice time-saver which I appreciate.
The latest feature added to the membership portal allows me to pull up my membership card, so I never have to remember to carry it with me. This feature was a great value recently when a sojourning Brother came to visit in Omaha. He simply pulled up his Scottish Rite dues card, and was immediately welcomed to our meeting!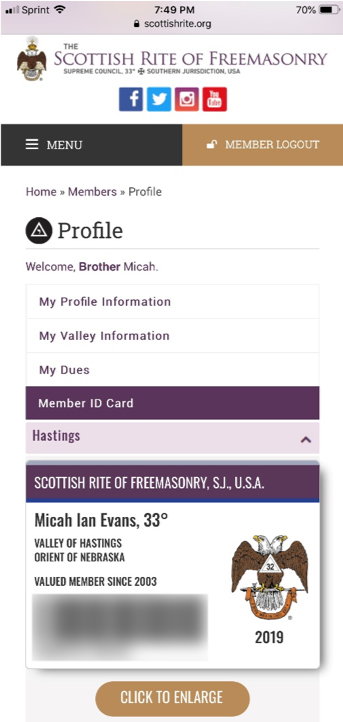 With a simple barcode scanner the Valley got from an electronics store for $25, the Omaha Valley also scans membership cards through Sentinel, the House of the Temple's membership database, for meetings and to check members in. No more fumbling around the wallet, or digging through my Scottish Rite cap box for my membership card—it's always there with me.
The House of the Temple has created apps to keep Brothers in touch with one another, a website that helps me keep my dues current and my records accurate. With the online membership card, I have one less thing to worry about when I travel to meetings.
Now if it could only help me memorize my lecture in the Thirtieth Degree ...
---