By S. Brent Morris, 33°, Grand Cross
Photo: Ill. Robert G. Watkins, 33°, Acting Grand Tyler, Valley of Alexandria, Va., officially opens the 2009 Session.(Bro. Jim Busby, 32°, KCCH, Valley of Charleston, W. Va.)
On May 31, 1801, in Charleston, South Carolina, the first Supreme Council of the world was opened by SGC John Mitchell, 33°. Two-hundred-eight years, one month, and five days later, that same Supreme Council was opened by SGC Ronald A. Seale, 33°, to begin its 2009 biennial session. It's interesting to speculate if our eleven founders could have foreseen the growth of the Ancient and Accepted Scottish Rite of Freemasonry to be the largest Masonic Rite in the world with fifty-eight supreme councils around the globe.
While there are no minutes of that first 1801 meeting, we can confidently assume it began with invoking the blessings of Deity as those present engaged in their great and important undertaking. Similarly, Grand Chaplain W. Kenneth Lyons Jr., 33°, Grand Cross, celebrated vesper services on Sunday afternoon at St. John's Church on Lafayette Square across from the White House. St. John's Church was established in 1815 during the administration of James Madison, and every President of the United States since has worshipped there regularly or occasionally. Music for the service was provided by Mr. Benjamin Hutton, Organist, St. John's Church, and singers from the St. John's Choir, and the scriptural reading from Psalm 146 was by SGC Ronald A. Seale, 33°.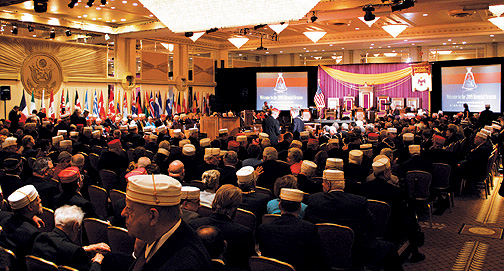 Photo: Attendees of the Opening Session of the Supreme Council, 33°, gather in the Presidential Ballroom of the Capital Hilton Hotel, on Monday, Oct., 5 (Christopher M. Crosbie)
On Monday morning, October 5, 2009, at 9:00 a.m., Acting Grand Tyler, Robert G. Watkins Jr., 33°, stepped into the ballroom of the Capital Hilton and announced, "Hear ye! Hear ye! Hear ye! All will please rise for the Supreme Council." After this Grand Organist F. Reed Brown, 33°, began the grand march from Aida to accompany the solemn procession of the Supreme Council (Mother Council of the World) of the Inspectors General Knights Commanders of the House of the Temple of Solomon of the Thirty-third Degree of the Ancient and Accepted Scottish Rite of Freemasonry of the Southern Jurisdiction of the United States of America.
First came Sovereign Grand Commander, Ronald A. Seale, 33°, escorted by the Grand Master of Ceremonies and followed by the Grand Standard Bearer and Grand Sword Bearer, and after this came the members of the Supreme Council marching in pairs by seniority. When the Inspectors, Deputies, and Officers were seated in their stations and places, the Grand Herald fulfilled the first great and important care of a Mason and insured that the Supreme Council would be undisturbed during its deliberations. The Grand Commander then asked the Lieutenant Grand Commander four penetrating questions: What are we? Whence do we come? Whereunto are we journeying? What is our duty here? After receiving satisfactory answers, the Grand Commander asked the Grand Chaplain to invoke the aid and protection of our Father in heaven, after which he opened the Supreme Council for deliberations.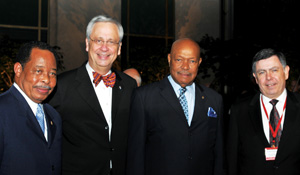 Photo: Sovereign Grand Commanders (l. to r.) Deary Vaughn (Southern Jurisdiction, U.S.A.,P.H.A.), Ronald A. Seale (S.J., U.S.A.), Solomon Wallace (Northern Jurisdiction, U.S.A., P.H.A.), and John Wm. McNaughton (Northern Masonic Jurisdiction, U.S.A.) (Elizabeth A. W. McCarthy, The Scottish Rite Journal)
The first order of business was to welcome the Grand Masters from thirty-three of the grand lodges that make up the Southern Jurisdiction. MW Kwame Acquaah, 33°, Grand Master of the District of Columbia, responded for the Grand Masters and welcomed all to Washington. SGC Seale thanked the Grand Masters for honoring the Supreme Council with their presence, and then received the heads of delegations of the twenty-seven sister Supreme Councils in attendance.
Special recognition was given to SGC Deary Vaughn, 33°, United Supreme Council, Southern Jurisdiction, USA, Prince Hall Affiliation, and SGC Solomon Wallace, 33°, United Supreme Council, Northern Jurisdiction, USA, Prince Hall Affiliation. It was the first time that both Prince Hall Supreme Councils had been represented at our session, and SGC Seale presented Grand Commanders Vaughn and Wallace with their credentials and jewels as Emeriti Members of Honor of the Mother Supreme Council. Responding on behalf of the visiting Supreme Councils were SGCs John L. W. Wright, 33°, England and Wales, Matthew F. Todd, 33°, Canada, Solomon Wallace, 33°, Northern Jurisdiction, Prince Hall Jurisdiction, Deary Vaughn, 33°, Southern Jurisdiction, Prince Hall Affiliation, and John Wm. McNaughton, 33°, Northern Masonic Jurisdiction, USA.
Concluding the welcome of official delegations were representatives of fifteen allied Masonic organizations. The Grand Commander then invited remarks from Ill. Jack H. Jones, 33°, Imperial Potentate of the Shriners, Ms. Arielle Gordon, Supr. Bethel Honored Queen, International Order of Job's Daughters, Ms. Chelsea Norman, Grand Worthy Advisor, International Order of Rainbow for Girls, and Bro. Benjamin B. Turconi, M.M., International Master Councilor, DeMolay International.
Grand Commander Seale then received an unexpected honor from DeMolay International. Ill. Robert Cockerham, 33°, SGIG in Missouri and Grand Master of DeMolay, made Ill. Seale, the first Sr. DeMolay to serve as a Grand Commander, an honorary Grand Master of DeMolay. SGC Seale joins an exclusive group of Masons who have received this honor: US Presidents Franklin Delano Roosevelt, 32°, Harry S Truman, 33°, and Gerald Ford, 33°; Canadian Prime Minister John G. Diefenbaker; and Imperial Potentate of the Shriners of North America, Jack H. Jones, 33°.
The Supreme Council then received brief summary reports from Ill. Howard Kerce, 33°, on our 175 RiteCare clinics, RADM William G. Sizemore, 33°, GC, on the Supreme Council staff, Ill. Earl E. Ihle Jr. on development, announcing a new capital campaign, and Curtis Lancaster on Fraternal Relations with 57 regular Supreme Councils around the world, and Ill James D. Cole, 33°, Grand Treasurer General, gave a review of our the financial status and announced that a summary would be distributed to all members. Ill. Karl Reed, Chairman of Benevolence and Fraternal Assistance, reported that during 2007–2008 the Southern Jurisdiction spent $32,556,161 helping others through our RiteCare Clinics, Scottish Rite scholarships, and other charitable endeavors. Ill. David J. Morgan, 33°, gave the necrology report which included seven Grand Crosses and three Past SGIGs.
Photo: Ill. David J. Morgan, 33°, Grand Almoner and SGIG in Nevada, presents the Necrology report. (Bro. Jim Busby, 32°, KCCH, Valley of Charleston, W. Va.)
As part of the Scottish Rite's continuing emphasis on education, SGC Seale introduced Ill. Arturo de Hoyos, 33°, GC, and the two announced the upcoming publication of a revised and annotated edition of Albert Pike's Morals and Dogma. The theme of learning was maintained when Bro. Jason Van Dyke, 32°, Master Craftsman Program Director, gave a summary of the Master Craftsman Program: 2,700 participants in 18 months or almost 12,000 quizzes graded. Bro. Van Dyke recognized those Valleys with the largest percentage participation in the program: Montgomery, Alabama, among large Valleys, and Grand Junction, Colorado, among the small Valleys. At the state level, Washington was recognized for having the highest participation rate among large Orients, and Utah as the highest among small Orients. Finally, Bro. Van Dyke unveiled Master Craftsman II for graduates of the first program. The cost of the new program is $35. SGC Seale took special pleasure in presenting his own Grand Master, MW J. F. Webb, 33° of Louisiana, his certificate of completion of the Master Craftsman Program.
Next was a farewell to those Sovereign Grand Inspectors General who will retire during the next biennium, this being their last session to attend as Active Members. Soon-to-retire SGIGs included Ill. C. B. Hall, 33°, West Virginia; Ill. Joseph C. Jennings Jr., 33°, Oklahoma; Ill. John E Moyers, 33°, Kentucky; Ill. Hans R. Wilhelmsen, 33°, Maryland; and Ill. A. James Wriston Jr., Hawaii.
Following the long-standing custom of the Supreme Council, the Grand Oration was delivered by Ill. William B. Brunk, Grand Orator, who spoke on the values of Freemasonry. The SGC then acknowledged the outstanding support given by the staff of the Supreme Council. He concluded his remarks by rhetorically asking what was the most significant decoration that any Mason could wear, and in silent answer he held up the white lambskin of a Master Mason. He talked briefly about the important and yet difficult job of turning the Supreme Council in the direction to align it with the 2005 Strategic Plan. Following these remarks, Ill. W. Kenneth Lyons Jr., 33°, GC, Grand Chaplain was asked to offer a closing prayer. SGC Seale then closed the Supreme Council in peace and harmony.
At Tuesday noon the Scottish Rite Research Society held its annual meeting. Ill. William B. Brunk, 33°, SRRS President, presided and welcomed the members. He announced new officers for the society, to take effect at the conclusion of the meeting: Ill. Robert G. Davis, 33°, GC, Editor of Heredom; Bro. Michael A. Halleran, 32°, Editor of The Plumbline; and Ill. William J. Mollere, 33°, SGIG in Louisiana, President. Ill. S. Brent Morris, 33°, GC, announced 13 new Contributing Members in recognition of having their first article published by the society. He also announced a new SRRS Fellow, Bro. Andreas Rizopoulous, 32°, of the Supreme Council for Greece, only the fourteenth member to have five papers published by the SRRS. Following lunch, Ill. Brunk introduced Ill. Alain Bernheim, 33°, as the newest Albert G. Mackey Scholar for Lifetime Achievement. Ill. Bernheim previously received a Mackey Award for Excellence in Masonic Scholarship. He then shared with the society "My Approach to Masonic History," giving insights to how an accomplished historian approaches Masonic history.
On Tuesday afternoon, the active and honorary members of the Supreme Council assembled in the auditorium of the Valley of the District of Columbia for the conferral of the 33°, Inspector General.
---