A Visit 80 Years in the Making!
December 9, 2014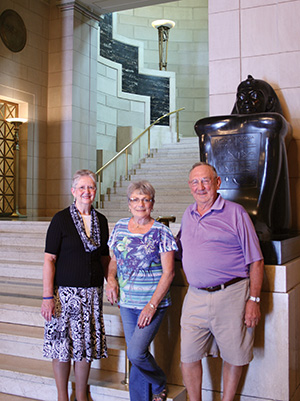 Mrs. Judy Fletcher, working for the Membership Services team, has been placing calls to our members on or around the occasion of their 80th birthdays just to touch base and wish them well. Recently, she called Bro. Wayne Schwartz, KCCH, a member in the Valley of Fresno, Orient of California. Bro. Wayne was happy to hear from her and explained that he had never been to Washington, D.C., before. So Judy encouraged him to come and see the House of the Temple in person, and she said if he did make it out, he should stop by and see her there—a month later, that's exactly what happened, much to Judy's surprise and delight!
Bro. Wayne and his wife, Coleen had a great time seeing the headquarters building and visiting with Judy. If you're in the neighborhood, we hope you will stop by too! (You don't HAVE to wait until you're 80!)
Click here for our hours of operation.
---