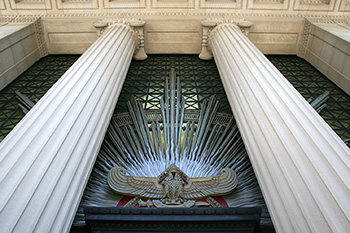 Open Monday – Thursday.
We are closed to all tours Friday – Sunday.
Tour Hours
We are open for tours from 10 am to 4:30 pm, Monday–Thursday.
Please see below for special hours and closings.
Please note: Anyone arriving after 3:30 pm will receive an abbreviated tour, if time allows. Group tours (10 people or more) must be scheduled no later than 3:00 pm to facilitate the tour appropriately and receive the full tour.
Library Hours
Year-round, Monday–Thursday: 8 am to 5 pm
Business Hours
Year-round, Monday–Thursday: 7 am to 5 pm
Holidays & Special Hours/Closings
The Supreme Council follows the schedule of the United States federal government. If the government closes due to special circumstances, such as inclement weather, the House of the Temple does also. You can view the current status of the federal government at https://www.opm.gov/policy-data-oversight/snow-dismissal-procedures/current-status/. 
| | |
| --- | --- |
| Monday, November 12, 2018 | BUILDING CLOSED |
| Thursday, November 22, 2018 | BUILDING CLOSED |
While we will do our best to post closings here in advance, please be aware the House of the Temple may modify tour times or close on dates other than those listed here. **Visitors are strongly encouraged to call 202–232–3579 or check the official Twitter account (@MasonicMuseum) prior to coming to confirm the building will be open.**