Washington took his oath of office on a Masonic bible by coincidence.
True!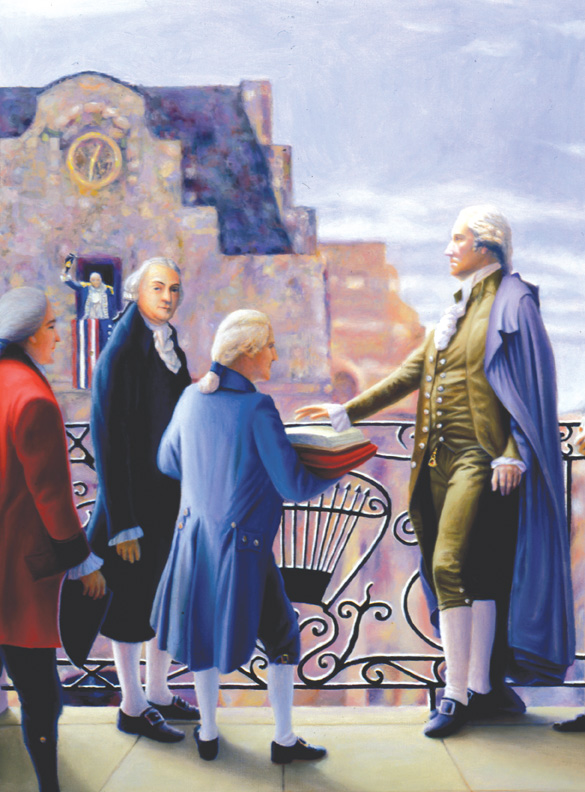 Illustration:  Detail from "George Washington's Inauguration as the 1st President of the United States, Apr. 30, 1789," by Ill. John D. Melius, 33°
George Washington was inaugurated as the first president of the United States of America on April 30, 1789. He went to Federal Hall on Wall Street and was joined by John Adams, his Vice President, Frederick A. C. Muhlenberg, Speaker of the House of Representatives, Chancellor Robert Livingston, the highest-ranking judicial officer of New York; and Generals Frederick William von Steuben, "Light Horse Harry" Lee, Henry Knox, and Arthur St. Clair (all Masons except for Adams).
As the time came for Washington to step out on the balcony and take his oath of office before an estimated crowd of 10,000, it was realized that no one had brought a Bible! Chancellor Livingston was also Grand Master of Masons of New York and ordered Maj. Jacob Morton, parade Marshal, Grand Secretary, and Master of St. John's Lodge No. 1, to get the Bible from St. John's Lodge. The lodge met at the "Old Coffee House" at the corner of Water and Wall Streets, about three blocks away. Morton returned with the Bible, Chancellor Livingston administered the oath, and George Washington added the words "So help me God!" and kissed the Bible when he finished. Thus began the first term of the first President of the United States.
St. John's Lodge carefully preserves the "Washington Bible" and uses it at its meetings. The Grand Master of New York takes his oath of office on the Bible as have presidents Warren G. Harding, Dwight D. Eisenhower, James E. Carter, and George H. W. Bush. The Bible was scheduled to be used for the inauguration of President George W. Bush, but rain kept the fragile book inside.
—From the January/February 2009 Scottish Rite Journal