Myth or Fact: The Sovereign Grand Commander's chair at the House of the Temple sits in the east in the Temple Room.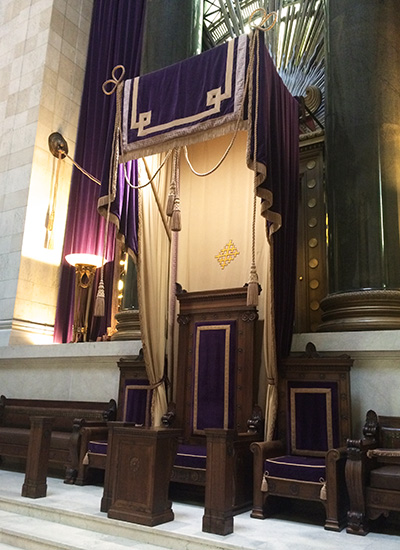 Sort of! It sits in the symbolic "East"—but, in actuality, given the location and architecture of the building, the Grand Commander's chair actually sits in the geographic west, opposite the Temple Room's entrance.
From Jeri E. Walker, A Guidebook to the House of the Temple: The History, Architecture, & Symbolism (Washington, DC: Supreme Council, 33°, SJ, USA, 2015), 71.
Sovereign Grand Commander's Chair in the Temple Room
"Carved entirely of walnut, the Grand Commander's chair sits in the symbolic East on a dais five steps above the Temple Room's mosaic floor. Hanging over the chair is a large canopy of purple velvet on the outside with white silk interior. The Cross of Salem with crosslets, the emblem of the Sovereign Grand Commander, is embroidered on the canopy that surrounds the Grand Commander's chair. The symbol represents the highest rank and responsibility within the Supreme Council of the Scottish Rite." (Walker, 70)
Significance of "The East" in Freemasonry
"The dais upon which the leaders of the Supreme Council sit in the Temple Room is know as 'the East.' The origins of this term are indeed in the distant past. Many ancient civilizations, from the sun-worshipping Egyptians to the Israelites, revered the East as an emblem of light. Moses built the Tabernacle in the wilderness and placed the camp of the Israelites facing due east as a mark of distinction.
"In Masonic lodges, the East is a place of honor and is distinguished from the rest of the lodge room by a raised platform, or dais. Only those who have 'passed the Chair,' or leaders of the lodge, are permitted to occupy this place of light. The East, from where the sun rises, is prevalent in ritual aspects of Masonry as well. For example, a new Mason is asked, 'What induces you to leave the West to travel to the East?' He answers, 'In search of a Master, and from him to gain instruction' (Mackey, p. 301)." (Walker, 71)
Bibliography: Mackey, Albert G., Encyclopedia of Freemasonry, Vol. 1 and Vol. 2. Revised and enlarged by Robert I. Clegg with supplemental volume by H. L. Haywood. Richmond, VA: Macoy Publishing, 1966.
---
For more information about the
House of the Temple
, headquarters of the Scottish Rite of Freemasonry, SJ, USA, located in Washington, DC, read
A Guidebook to the House of the Temple: The History, Architecture, & Symbolism
, by Jeri E. Walker available on our online store.