Has a Masonic token ever been accepted as a coin?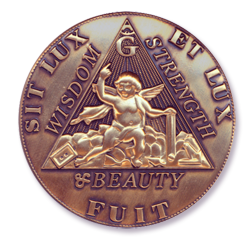 Right: The WSB medallion adopted the part of the design of the Sketchley token.
Yes! In 1794 Bro. James Sketchley, Birmingham, England, issued a private copper token with this legend, "24 Nov. 1790 Prince of Wales Elected G. M." This was George Augustus Frederick who later reigned as George IV, 1820–1830, and he was Grand Master of the premier Grand Lodge of England (Moderns). The token was 28mm diameter and 9g in weight and had the value of 1/2 penny. It is remarkable that the Sketchley token, apparently issued as a pocket piece, was accepted and circulated as a 1/2 penny coin! No other Masonic token is known to have been used as in this way. The obverse of the Sketchley token shows a winged cherub with a triangle and Masonic emblems, and the reverse has the arms of the premier Grand Lodge of England with supporting beavers. They are worth about $25–40 today (
www.intercol.com
). The obverse design has been adopted by the WSB Club (see image) for the numbered tokens given to new WSB members.
—From Bro. Yasha Beresiner, P.M., Quatuor Coronati Lodge
---
This article originally appeared in the September/October 2009
Scottish Rite Journal.