Featured Book: The Book of the Lodge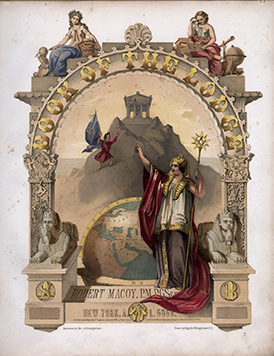 Published in 1855 by Robert Macoy,
The Book of the Lodge
(title page shown above) is a gorgeous book of Masonic illustrations. Macoy, influenced by both American and English sources, took many of the illustrated engravings from Jeremy Cross's
The True Masonic Chart or Hieroglyphic Monitor
 and re-produced them as highly embellished and colorful plates.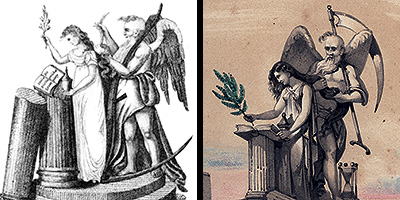 Above: Illustrations of "Father Time unbraiding the hair of a weeping virgin" as depicted (left) by Amos Doolittle in Jeremy Cross's The True Masonic Chart and (right) in Macoy's The Book of the Lodge. 
—From Jeri E. Walker,
A Guidebook to the House of the Temple: The History, Architecture & Symbolism
(Washington, DC: Supreme Council, 33°, SJ, USA, 2015).