Featured Article: Turner's Tale—Genealogy Research Leads to Amazing Masonic Discovery
By Gregory S. Kearse, 33°, & S. Brent Morris, 33°, Grand Cross |
This is the story of a liquor magnate, Jimmy Turner, whose ancestor was a founding member of the Supreme Council.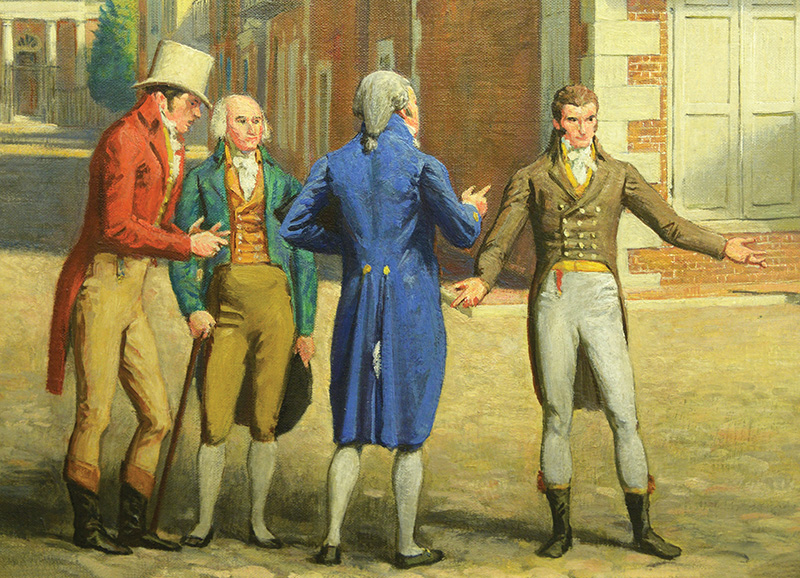 Above: This detail from Shepheard's Tavern, Charleston, SC, 1802 by Allyn Cox (1959) at the House of the Temple in Washington, DC, shows four of the founders of the Mother Supreme Council. Rabbi Abraham Alexander is second from left.
(Courtesy the House of the Temple Museum and Library)
The punchline is this: Abraham Alexander was one of the first Sovereign Grand Inspectors General of the Mother Supreme Council of the Thirty-third Degree. Jimmy Turner can now tell you a lot about his great-great-great-great-grandfather Abraham Alexander. This extraordinary story lies in the unveiling of the details, and that's where the Devil resides. Larissa Watkins, long-time librarian at the House of the Temple had this to say about Jimmy Turner, the principal player in this remarkable tale. "Mr. Turner knocked on the door of the House of the Temple Library not knowing for sure that he would find the answer to his genealogical quest which began in 2015." Watkins has been employed in the Library of the House of the Temple since July 1, 1999. She said that Turner had been armed with more information than most. "Before Jimmy came to the Library, he did exceptional research. He knew that his great-great-grandfather, Saul Magnus, lived in Rome, Georgia. Jimmy thought Magnus might have been a Mason." Watkins added, "Thus, for the librarian, it was a piece of cake to pull the
Proceedings
of the Grand Lodge of Georgia for the time period. Well, Jimmy got his genealogic reward: Saul Magnus was a Master Mason of Cherokee Lodge No. 66." And as a side benefit, a date for Saul's residence in Rome could be established. Alexander was born in London in 1743 and immigrated to Charleston, SC, in 1771. He was a very prominent Jew who had been described as "a Calligraphist of the first order," which may account for his election as the first Grand Secretary General of the Supreme Council. This wry historical reference comes with an intriguing storyline. It was an unusual group who formed the first Supreme Council in Charleston, all possessing a strong religious heritage. Four were Jews, two were from Scotland, two from Ireland, two were Frenchmen, and one was a German. Each possessed a rich and varied background. The four who were Jews were from different countries and reflected quite different upbringings in religious matters. By profession the founders were soldiers, physicians, and merchants; one was a clergyman. Illustrious Albert Pike summarized the founding fathers in this manner: "When and where has there ever been exhibited a more striking proof of the strength and value of Masonic brotherhood?" Yes, but who is this Jimmy Turner and what has he to do with this story? Jimmy Turner, current head of the storied liquor empire Joseph A. Magnus, is at the crux of this journey, for certainly his saga is an amazing voyage of fortitude and discovery that ends at the House of the Temple in Washington, DC. Turner is the great-grandson of Joseph A. Magnus. His company, the Jos. A. Magnus & Co., located in Cincinnati, distributed and distilled a successful line of pre-Prohibition spirits. Turner had embarked on a spirit-driven quest for the family's Masonic ancestry—filling in his family tree. It is unlikely that Joseph A. Magnus remembered his father, Saul Magnus. Saul Magnus had marched away to fight for the Confederate cause when his son, Joseph, was only three years old. As the eldest of four young and fatherless children, Joseph struggled through his early life to restore the family fortunes. He succeeded by prospering in the whiskey trade. The 1860 US Census found the Magnus family at home in Rome, GA. Saul Magnus was recorded as a thirty-year-old merchant, even at that young age affluent for the times. He had come from Germany to join an extended Jewish family headed by Ralph Moses, a plantation owner who had pioneered the growing of peaches in Georgia, and Saul had grown wealthy in the process. When Moses joined the Confederate rebellion in 1861 as chief supply officer for General Longstreet's Army, many of his male relatives and friends had joined the South's cause. Saul was among them, and perished at the Battle of Resaca, GA. The battle occurred on May 16, 1864, when the advance of Gen. James McPherson´s (USA) troops moving South from Lay's Ferry en route to Kingston, GA, were delayed twenty-four hours by Gen. William J. Hardee´s (CSA) rear guard. Saul's son, Joseph Magnus, also appears to have been successful early. By the age of twenty-six he was financially secure enough to marry. His bride was Helena Eleanor, five years his junior, who was born in South Carolina into an established family there. Subsequently, the couple moved to Cincinnati, Ohio. The 1900 Census found them living there with four children. The family was wealthy enough to have three live-in servants. Magnus's occupation was given as "wholesale liquors." Although Ohio voted to ban sales of liquor, wine, and beer in 1916 Many liquor dealers in Cincinnati and elsewhere in the state folded up, but Jos. A. Magnus Co. continued to operate for two more years, probably as a result of serving customers in states that were still "wet." After the advent of National Prohibition in 1920, Magnus disappeared from public view. He died on May 4, 1927, and is buried in the United Jewish Cemetery in Cincinnati. Suffice to say, however, that in his lifetime he had experienced severe hardships and yet had risen above them to become a wealthy and respected merchant. In so doing Joseph Magnus had redeemed the supreme sacrifice of his father. Enter heir and family historian Jimmy Turner, whose dogged drive and determination led to a wonderful discovery. Saul Magnus had indeed left a legacy. The House of the Temple Library is the unlikely star of this tale of a liquor baron that started unfolding over two hundred years ago! Through persistence, a sharp eye, and the assistance of Librarian Larissa Watkins, Jimmy Turner discovered that his great-great-great-great-grandfather was a founding member of the Mother Supreme Council! But this amazing story and journey begins with another liquor baron during the Civil War period in American history. Alfred Hitchcock could not have invented a more twisted and intriguing plot for a movie. Jimmy Turner is chief executive of Joseph A Magnus Distillery, created to honor his great grandfather, and on a whim searched his family tree. Many American families have begun to look deeply into their pasts to discover the heroes and rogues in their lineage. Jimmy Turner's ancestor was the first Secretary-General of the Supreme Council! His visits to the House of the Temple yielded much fruit! Let's travel back in time a little bit. The port cities of Charleston, SC, and Rome, GA, are a stone's throw away from each other. They share a river waterway, the Savannah River, a major tributary that forms most of the border between South Carolina and Georgia. They were the nuclei of early English settlements during the Colonial Period of American history. Two tributaries of the Savannah, the Tugaloo River and the Chattooga River, form the northernmost part of the border. This detail is a genealogic reference that figures prominently in this stunning tale. Unbeknownst to Jimmy at the beginning of his quest, the Supreme Council for the Scottish Rite was founded on May 31, 1801, at Shepheard's Tavern located at the corner of Church and Broad Streets, Charleston, SC. "I discovered that from the work that these gentlemen did, all councils throughout the world have descended" Jimmy notes. "This information has sent me on a three-year journey." "Without a doubt, I know by each fascinating development, this is nothing short of destiny and fate." Jimmy exclaimed excitedly. He continued with, "Immediately within two weeks of learning the story from my brother, I flew to Charleston and met with two of the most renowned researchers and curators in the city, Dale Rosengarten, curator of the special family collection library at the college of Charleston, and Nic Butler, public library of Charleston." "On that same trip, I went to the Scottish Rite library. Outside the door was an obelisk with all the names of the eleven gentlemen of Charleston [the founders of the Supreme Council]. On July 28, 2015, I met with Librarian Larissa Watkins [at the House of the Temple] who suggested that I check the Georgia
Proceedings
. The library was so large; it was intimating." Joseph Magnus's father was Saul Magnus. "Upon looking him up, we found him in Rome, Georgia's Cherokee Lodge No. 66. I had an epiphany."

Above: Detail of of the 1855 Annual Communication of the Grand Lodge of Georgia listing "S. Magnus" as the Junior Deacon of Cherokee Lodge No. 66 in Rome, GA
(Courtesy the House of the Temple Museum and Library)
"Joseph had emigrated from Prussia around 1850 and married Rebecca Alexander, the great-granddaughter of Alexander [the Supreme Council founder]. I was confident but bitterly disappointed that we did not find Joseph in our initial search. Larissa said don't give up. And I literally opened the book to the page where his son, Saul, was listed as a member of Cherokee Lodge! He was Junior Steward." "Abraham Alexander's year of arrival in Charleston was in 1763, as it was listed in both 1760 and 1763 census records, and in 1790 census records in different sections. I also confirmed from census records that he was still listed with the port at the time of his death in 1816." "Without having come here and receiving great help from both Brent Morris and Larissa, so many future discoveries would never have occurred." "However, the story did not fall together until January, 2015. Let me retrace some facts. My great-grandfather, Joseph A. Magnus moved to Cincinnati in 1890 and opened his distillery around 1892. One of his brands became the most popular brand of rye whiskey in the south. He closed his doors a year before prohibition." It turns out that Abraham Alexander Sr., the founder of the American family, was born in London, England, in 1743. His father, Joseph Rafael, was a rabbi, and Abraham was schooled in rabbinical studies. In 1763, Abraham emigrated to Charleston, South Carolina and eventually became the second rabbi of the first temple of Charleston, the Kahal Kadosh Beth Elohim Congregation. After the resignation of the rabbi in 1764, Abraham Alexander served the Congregation as its rabbi and cantor for the next twenty years. Records show he was among the first Jewish settlers to come to the Southern Colonies. In 1771, he went back to London to marry, and had a child, Joseph Alexander Jr. He then returned to Charleston, while his wife and child remained in England. Although he had only been in the American Colonies since 1763, Abraham Alexander Sr. became firmly rooted in his new homeland and proved himself to be a true American patriot. He fought the British as a Lieutenant in Burns Troop, Wade Hampton's Regiment of Light Dragoons, Sumter's brigade during the Carolina campaign, and as Lieutenant of Dragoons in Captain William McKenzie's Troop, in Lieutenant Colonel William Hill's Regiment. After the Revolutionary War, in 1798, Abraham Alexander Jr. followed his father to the United States and settled in Charleston. He married and had ten children, the youngest being Rebecca, who married Saul Magnus. Joseph A. Magnus was the oldest of their children. Indeed, Abraham Alexander Sr., an early Mason in the Colonies, was among the group known as "The Eleven Gentlemen of Charleston," founders of the Mother Supreme Council of the World of the Thirty-Third and Last Degree Ancient and Accepted Scottish Rite of Freemasonry. It was the first Supreme Council and all other Supreme Councils in the World descended from it. Perhaps more amazing was Jimmy's fortuitous meeting with historian Dr. Fred Auld in Charleston who indicated that his great-great-great-grandfather, Isaac Auld, was also one of the founding members! "I thought it was absolutely amazing that his ancestor, Isaac Auld was huddled with my ancestor!" A hunch, a feeling, and persistence, with the help of the House of the Temple Library and its vast resources, enabled Jimmy Turner to discover his Masonic roots!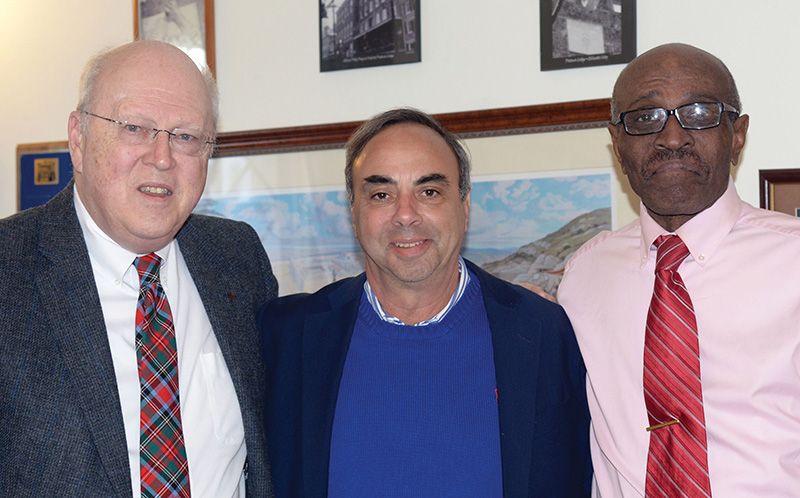 Photo: Authors of this article S. Brent Morris, 33°, Grand Cross (left) and Gregory S. Kearse, 33° (right) with Jimmy Turner (center)
(Photography: Kia Boone,
The Scottish Rite Journal
)
James Turner
has a BA in Communications and Economics from Denison University and was a long-time partner in Turner-Gary Sports whose clients included several major league baseball players. He is now the principal of Joseph A. Magnus Distillery.
---
For details on the founding of the Supreme Council, check out Ray Baker Harris's
Eleven Gentlemen of Charleston: Founders of the Supreme Council, Mother Council of the World, Ancient and Accepted Scottish Rite of Freemasonry
(1959).
---
The text of this article originally appeared in the
May/June 2017 issue of The Scottish Rite Journal
—available online and via the free app for Apple and Android devices, just visit your preferred app store and search "Scottish Rite Journal."