Archives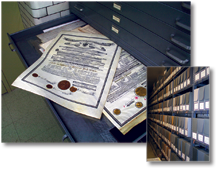 The purpose of the Archives is to conserve and maintain the Supreme Council's official correspondence, records, rituals and most rare and valuable printed items and holographs. The goal in managing these valuable collections is to preserve the Scottish Rite's history. Unlike the Library (which is open to the general public), the Archives are primarily a private resource for the Supreme Council. As such, they are not open to casual inspection or use. However, bona fide Masonic scholars and researchers may be permitted to use our resources if approved by the Grand Archivist. Requests will be handled on an individual basis.
The Archives
The Archives of the Supreme Council are distinct from the Library and serve a twofold purpose. Unlike the Library, the Archives are not generally open to the public. The Archives are the repository of the official records of the Scottish Rite. They house the original documents dealing with our founding, rituals, and current domestic and international affairs. Two main storage areas comprise the Archives.
The General Archives and the Archives Vault
The General Archives is where the records of Active Members and Deputies are kept, together with correspondence relating to Appendant and foreign Masonic Bodies. Some two million items are stored in archival cases and fireproof file drawers. The second main storage area is the Archives Vault. This is where our most valuable manuscripts and books are preserved. They include our Scottish Rite ritual collection, as well as those of foreign jurisdictions, and manuscript copies of books, both published and unpublished. As with the Library, our collection is not as complete as it should be. Soon after the founding of the Supreme Council, we suffered a series of misfortunes, including fire and the death of our leaders, which caused us to lose some of our earliest records. When Albert Pike joined the Supreme Council, he was horrified to learn that many of our most valuable documents had been given to other jurisdictions and never returned. He also learned that many of our documents were thrown haphazardly into boxes and not catalogued. Although he greatly improved things and subsequent archivists have continued Pike's example, we are now, for the first time, systematically examining every document in the Archives, cataloging and preserving each in ultraviolet-filtered Mylar® archival protectors and acid-free containers. The items in the Archives are our most valuable collection of records. In many regards, they are comparable (as far as the Scottish Rite is concerned) to the documents in the National Archives and Smithsonian Museums. Because of their age, condition and, in some cases, confidential nature, however, they are not generally subject to casual review by visitors to the House of the Temple. Specific requests for archival information from bona-fide scholars and researchers will be handled on an individual basis. As a matter of policy, the Supreme Council Archives does not permit photocopies to be made from original documents.
For More Information
All Archive inquiries may be directed to Arturo de Hoyos, the Grand Archivist and Grand Historian, at 202-777-3107 (tel), or by email at
adehoyos@scottishrite.org
Photography Use
Photographs from our Archives can be used on a case by case basis. Please contact the Archivist for more details. Forms are available here: