3rd-Biennial KSA International Gathering
April 19, 2016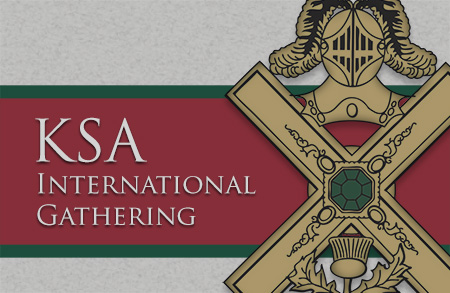 The Valley of Omaha Knights of St. Andrew is hosting the 3rd-Biennial KSA International Gathering on May 20–21, 2016 in Omaha, Nebraska, offering informative educational sessions on service and leadership, including engaging volunteers, VMAP, building a successful KSA, and fundraising. The keynote speaker is Brother John Hinck, retired Colonel, Grand Chaplain of the Grand Lodge of California, and PhD candidate. John will provide all attendees a copy of his book "Strength and Honor," and speak about character, leadership, and values.
Early bird registration extends through April 30, and for $100 registration, attendees will be invited to the Friday banquet, breakout sessions, Saturday luncheon and keynote address, and Celebrating the Craft prime-rib banquet at the Omaha Scottish Rite. Additionally, we are providing guests the Gathering challenge coin and lapel pin, and a copy of John Hinck's book "Strength and Honor." Attendees can register online, download the flier, and find a link for the Omaha Downtown DoubleTree hotel.
In many Valleys, the Knights of St. Andrew (KSA) have often been the most visible ambassadors of the Scottish Rite, greeting guests at rental events, serving dinners and cleaning up afterward, opening Reunions with impressive ceremonies. Regardless of whether Knights serve the Valley in a ceremonial capacity or as worker bees, the KSA is an organization that involves 32° Scottish Rite Masons and develops leadership qualities among Scottish Rite Masons.
Since 2001, the Valley of Omaha KSA has been an active body. Knights have donated over $40,000 back to the Valley through their fundraisers and projects and members are very well represented throughout the Valley leadership.
For more information, call Micah Evans at the Valley of Omaha Scottish Rite at 402–342–1300 or email micah@SRNE.org.
---