Introducing the Rebuilding the Temple Campaign
December 9, 2010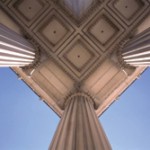 The House of the Temple, national headquarters of the Scottish Rite of Freemasonry, Southern Jurisdiction, is an impressive historic and architectural landmark. Designed by distinguished American architect, John Russell Pope, the building was intended to be "the most elegant, stately and superb [home] ever built for Scottish Rite Masons."* Now, nearing the 100th anniversary of the completion of the building in 1915, the Scottish Rite of Freemasonry, Southern Jurisdiction and the House of the Temple Historic Preservation Foundation are embarking on the massive task of restoring and improving the House of the Temple.
The Rebuilding the Temple Campaign, officially announced in January 2011, is intended to raise the funds necessary to make much-needed renovations to the building. Many vital enhancements must be carefully made in order to elevate it to the 21st century standards and to make it accessible to all visitors year round. These improvements include general structural rehabilitation, reroofing, plumbing and electrical modification, as well as installing an HVAC system. The building must be made compliant with modern building, fire, and life safety codes, which include the installation of several staircases, handicap entrances, and elevators of the convenience of visitors.
The campaign will also fund the restoration of the masonry, exterior metal, bronze, and wood framed windows, tile ceilings, stone flooring, and furnishings. The House of the Temple is home to the Library, Archives, and Museums of the Supreme Council. Many improvements must be made to protect the precious artifacts, library collections, museum exhibits, and the historical documents housed in the archives.
The campaign will establish an endowment to provide funding to maintain and preserve the House of the Temple, in perpetuity, once the current renovations are complete. Funds generated by the endowment will provide annual income to continue the work necessary to preserve and sustain the House of the Temple for future generations.
Visit the Rebuilding the Temple Campaign page for more information about the campaign and how to donate.
---
*Quote: Sue A. Kohler and Jeffery R. Carson, Sixteenth Street Architecture, vol 1, prepared for the U.S. Commission of Fine Arts (Washington, D.C." U.S. Government Printing Office, 1978), p. 281.
Photo: House of the Temple columns and roof (©Maxwell MacKenzie, Washington, D.C.)
---