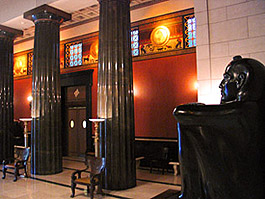 Time of Day
Afternoons and Thursdays are the generally the busiest times. If you would like to spend more time on your tour, please visit us in the morning Monday–Wednesday.
Dress
Please keep in mind that the majority of places on the tour are
not
air-conditioned. Also, please wear comfortable shoes. In a number of places, the floor is stone, and although there are elevators, the building contains several grand staircases.
Video/Photography
Please bring your smartphone or a camera! The House of the Temple is a one-of-a-kind architectural masterpiece. You are welcome to take photographs of the building for personal use. 
No commercial photography is allowed nor is video or audio recording without prior written permission.
Transportation
To avoid the hassle of searching for a parking space, use public transportation. The two closest Metro stations to the Temple are
Dupont Circle
(Red line) and the
U Street/African-American Civil War Memorial/Cardozo
(Yellow & Green lines). The S1, S2, S4, and S6 Metrobuses all stop within one block of the front entrance. Taxis and other transportation services are also easy to catch to our location.
Gift Shop
Don't forget our gift shop! All items found in our online Scottish Rite Store are available for sale at the House of the Temple.
Other Notes
No backpacks allowed. All bags subject to search