Master Craftsman Group Studies Program
During the 2017 Biennial Session in August, Sovereign Grand Commander Ronald A. Seale, 33°, released a new addition to the Master Craftsman Education Program. This addition is different from the previous format, though. With the current programs, you complete a number of quizzes. The numbers vary from course to course, and you mail them in to receive a certificate and pin. The new program, however, is a set of PowerPoint presentations on each of the 29 degrees of the Scottish Rite, which have been pre-loaded onto a USB Flash drive (shown here).These quiz-format courses, though they can be, and often are, done in groups, are meant to improve the individual's understanding of our organization's rituals and history. It is for this reason that, under the guidance of the Supreme Council 33°, we created Master Craftsman Group Studies. We wanted a program that engages a group in discussion about the degrees and their lessons.Each presentation has slides posing questions to engage the membership to think about what they have seen and heard in the degrees of reunions they have attended. At the end of each presentation is an open-ended question meant to encourage the members to discuss. This program was designed to be used in several different ways: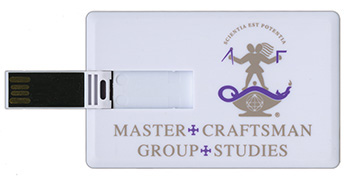 Individuals may purchase it to improve their own knowledge as well as to start a discussion group among their fellow Scottish Rite Brothers.
The Valley Education Officer, or any member, may use it to supply the educational program for their monthly Valley meeting.
The Valley can use it to communicate the degrees during their reunions.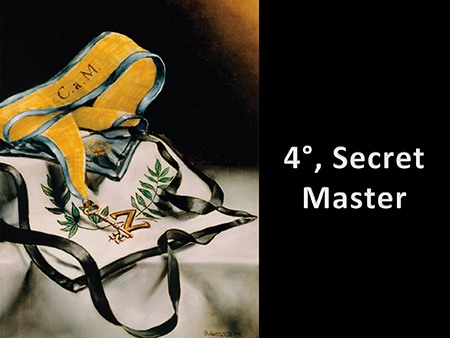 Above: Sample title slide from the Group Studies USB
When loaded, the USB will show on your computer as "MCGSProgram." For more information, please check out the video tutorial below.
How to Get Your Master Craftsman Group Studies USB
The USB has been supplied to all Scottish Rite, Southern Jurisdiction Valleys and is available for individual purchase on our web store or from the House of the Temple gift center in Washington, DC.
The Scottish Rite Master Craftsman Group Studies USB costs $20, plus taxes and shipping (if applicable).
We invite and encourage all our members to pick yours up today.
How to Use the Master Craftsman Group Studies USB
Having trouble viewing the video tutorial below? Watch it via Vimeo.