2022 RiteCare SRCLP Conference
Welcome to the 2022 Scottish Rite Children's Language & Literacy Conference!
Save the Date now for this inaugural gathering of Scottish Rite Leaders from both the Southern and Northern Masonic Jurisdictions alongside a continuing educational opportunity for Language Therapists, Dyslexia Specialists and Speech-Language Pathologists.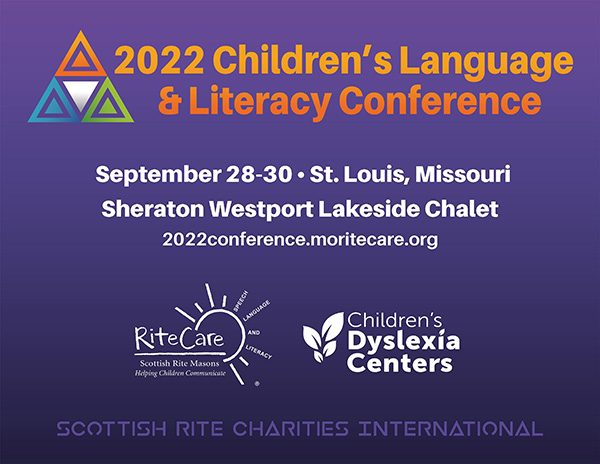 The 2022 Conference sessions will include presentations from cutting edge communication speakers and cover topics ranging from innovative development in communication practices to Tele-therapy and Tele-Practice. Additionally, there will be executive sessions for Administration and Scottish Rite Leaders on developing and growing Children's Programs in their respective states.
The 2022 Conference will be in St. Louis, Missouri on Wednesday, September 28–Friday, September 30. Conference and Lodging will be at the Sheraton Westport Lakeside Chalet.
If you have any further questions, please email us at 2022conference@moritecare.org.
Visit the 2022 Conference Page.