"The Rite Change" Collection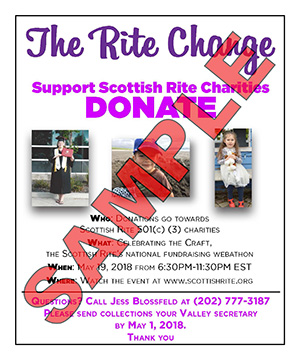 For this year's Celebrating the Craft (CTC), we would like your help starting a spare change collection drive called, "The Rite Change."
The Development Office already has sent out a "Rite Change" sticker (see sample) to all Scottish Rite Valley secretaries in the hopes that each Valley and those brethren with businesses will place a labeled jar in a prominent location to collect donations. All contributions will go towards Scottish Rite 501(c)(3) charities in the Southern Jurisdiction, such as the RiteCare Scottish Rite Childhood Language Program!
Please return all jars and donations to your Valley Secretary by May 1, 2018.
Do you have questions or would you like to request a sticker for your business?
Please contact the Development Office, at development@scottishrite.org or 202–232–3579.
We would like to thank you in advance for your participation with helping make "The Rite Change!"
Remember, CTC is
Saturday, May 19, 2018,
6:30–11:30 PM ET.
You can join in on the excitement and watch live via scottishrite.org. You also can join the Twitter conversation that night on @TheScottishRite using the hashtag #SRCTC2018.