By Heather Calloway, Director of Special Programs
Right: Since his first day of life, complications from Hirschsprung's Disease have forced Simon Kissam to use a feeding tube to receive necessary nutrients. He now is seeing a speech-language pathologist to learn to eat on his own.
For about seven years now, I have worked to help organize and plan the Scottish Rite's biennial RiteCare conference. "What's that?" You might ask. Well, the clinicians and administrators that work at RiteCare clinics and programs attend this conference and share the latest educational information on speech, language, literacy, and related programs. Some earn continuing education credits, and all enjoy networking with fellow colleagues who work for the Scottish Rite across the country.
It wasn't until last year, when my son Simon was born, that I ever thought about what a speech language pathologist (SLP) even did.
Let me tell you about Simon. He was born in August 2010, and before even going home, he was airlifted by helicopter to Children's National Medical Center in Washington, D.C. Something was terribly wrong. We knew it because the nurses were whispering in the hall and then coming in and acting like it was no big deal. Our pediatrician told us that it was likely that Simon just had an intestinal blockage, but he was also honest with us and said that there might be other complications. So the transport team came and packed tiny Simon into a huge life support system and took him—without us!—to our nation's capital.
At Children's National, Simon was admitted to the Neonatal Intensive Care Unit (NICU), which is Level IIIC, the highest level of care for a newborn in the Washington, D.C., area. For the first week of life, in order to hold my son, I had to maneuver around wires and tubes and lines. But, I held him as often as I could. The scariest moment arrived on Day of Life 9 (as they say in the NICU), when Simon was going in for a major surgery. His surgery was supposed to last a couple hours. So, we waited. And waited.
Other parents were called back to the recovery room to meet their kids. And we waited some more. Finally, the surgeon came out to talk to us. He pulled us into a private room and shut the door. The only things in the room were a Bible and some Kleenex. He said that the situation was worse than they guessed. From the biopsies they had taken, they found that Simon's entire colon and some of his small intestine did not work. It would all have to be removed. I don't remember what my husband, Todd, said or did, but I will never forget my question to the surgeon. "Can you save his life?" "Yes," was his reply.
When we walked into his room at the NICU following his surgery, Simon was still asleep. He needed an ileostomy to divert his intestines so they could heal. His intestine was basically pulled out his side and just open. It was so scary to see that on a baby.
The nurses had to teach us how to attach this little bag to his side. Then, he had a catheter inserted into his chest so that he could have IV fluids. There was a long tube that ran inside his vein and next to his heart. They taught us how to care for this, too. Simon wouldn't gain weight drinking bottles alone, so they decided to use a feeding tube to give him food continuously. On more than one occasion, we were not sure Simon would make it. Overnight I became a nurse, and, so did Simon's dad.
Simon was born with something called "Hirschsprung's Disease"; one in every 5,000 babies has it. There is no cure, no way to fix it, but it is usually medically manageable. It is a congenital disorder of the colon which results in nerve cells being absent which creates chronic constipation. If things can't move through, then they remove the parts of the colon that don't work, and sew the rest back together, in what is called a pull-through surgery.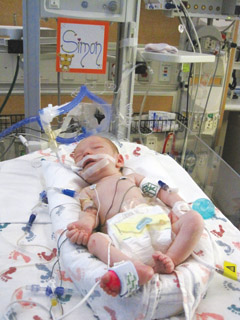 Left: On the ninth day of his life, Simon faced surgery to deal with major intestinal complications caused by the rare Hirschsprung's Disease.
When he left the NICU, he didn't leave the hospital. Simon was transferred to the Intestinal Rehabilitation and Gastrointestinal Unit where he works on his feeding, absorption, and digestion. Simon had seven hospital admissions in his first eight months of life for a total of 128 days.
Simon loved to eat, but suddenly, he stopped wanting to drink a bottle. Why? Well, he was always connected to a feeding tube which continually provided his nutritional support, so he was never hungry. We found out this is a common problem with babies that receive tube feedings. Our local pediatrician recommended that we contact a speech language pathologist (SLP) to help us. "WHAT?!?" I thought to myself. He must have read my expression, because he told us that SLP's don't just treat speech problems, they also address feeding, cognitive-communication, and swallowing disorders.
Imagine that! I've worked for Scottish Rite for all these years, and I never knew the field was more than just speech.
The first thing I did was get online to find a local RiteCare clinic, but we had recently moved for my husband's job. The closest Scottish Rite sponsored clinics were now over 120 miles and at least two hours away in Washington, D.C., or Baltimore, Maryland. I was bummed! I knew the quality of care that our clinics provide. I've worked closely with some of the leading speech pathologists in the nation, and lived only ten minutes from one of the clinics for many years, but now I lived in a place where my son couldn't be seen at a RiteCare facility.
Luckily, Simon's doctor recommended an SLP who worked at our local hospital, located only five minutes from our house. With the help of Tina Wehberg, MS, CCC-SLP, Simon learned how to eat again, and then he learned how to drink. Working for the Scottish Rite for all these years, never, did I realize how important our philanthropy, RiteCare, really is to parents. Never did I think I would need the services of such a clinic. That is until our own son, Simon, was helped through the care, professionalism, and expertise of a Speech Language Pathologist.
We didn't have the opportunity to take Simon to a RiteCare clinic for his care, but if needed, where will your child or your grandchild receive care in your hometown? Support your local RiteCare philanthropy. It does make a difference! Look at Simon, who gets a little better every day. Some RiteCare clinics provide diagnostic evaluation, while others provide treatment of speech and language disorders. Each operates individually and is managed and funded locally. If you don't have a RiteCare clinic, think about it. Why not? You could start one!
To follow more of Simon's story, visit his website at www.caringbridge.org/visit/simonkissam.
---