By Bonnie Q. Erickson, Radford University
Ten-year old Zach Crosier is a charter student of Radford University's Summer Language Clinic. At last summer's annual Scottish Rite Luncheon, his mother, Mary Vaughn, told the crowd the clinic continues to have a major impact on her son's life.
Zach is one success story and there are countless more who need to be served. There is a waiting list of 20 children who want to attend the Summer Language Clinic, and Diane Millar, director of the RU Autism Center, says more are expected.
The intensive summer clinical program—a partnership among the Communication Sciences and Disorders (COSD) Department, psychology, and music therapy faculty and students—is founded upon family-centered intervention. For the past two summers, the clinical program has focused on helping children with autism spectrum disorders. Parents attend workshops and learn to participate in therapy sessions with their children so they can facilitate their language development long after camp ends.
"We want to explore what we can do to expand the services available to children with autism spectrum. Ideally, we'd have a full-time family-centered setting with intensive therapy provided by multiple disciplines. The clinic will be developed in phases but we want the end product to be about the wellness of the child," says Millar.
"At Radford University, we have been fortunate to have access to exceptional faculty with incredible dedication to children with autism and related disabilities. As we have developed clinical programs to help improve the lives of these children and their families, we have also been studying the efficacy of the intervention approaches to attempt to contribute to the research in autism," Millar said.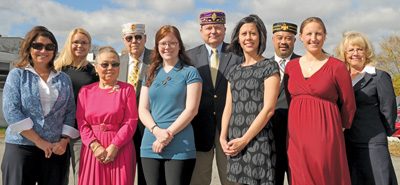 Photo: Members of a luncheon group that met recently to discuss the Scottish Rite Clinic at RU. Left to Right: Cathy Greenberg, VP University Advancement, Radford University; Lauren Dunbar, COSD student, scholarship recipient; Matsue Dewese; Ill. George Dewese, 33°; Monica Havens, COSD student, scholarship recipient; Ill. James Cole 33º, SGIG; Diane Millar, Associate Professor, Communication Sciences and Disorders; Bro. Albert Mah, 32°, Executive Director RU Foundation; Elizabeth Ton, Director, University Advancement; Claire Waldron, Chairperson, Communication Sciences and Disorders. (Lora Gordon, Radford University)
Ill. George and Matsue Dewese have three endowments through the RU Foundation: the Dewese Scottish Rite Endowment Fund to benefit a speech-language pathology graduate students working in the RU Clinics; the George E. and Matsue Scottish Rite Endowment Fund to benefit an Auburn High School or Eastern Montgomery High School student enrolling in RU; and Ninevah and Daisy Moss Dewese Scottish Rite Endowment Fund to benefit a student from Covington High School or Alleghany High School enrolling in RU. Current scholarship recipients are COSD graduate students Lauren Dunbar of Glastonbury, Connecticut, and Monica Havens of New Kent, Virginia. Dunbar is a COSD major and Havens is a Speech Therapy major.
Through the efforts of Ill. Jim Cole, 33°, SGIG in Virginia, and fellow members of the Scottish Rite, RU received $15,000 from Scottish Rite Foundations at the summer ceremony. That donation brought the total of giving by the Scottish Rite to more than $500,000.
President Kyle says that gifts such as these make tremendous strides in meeting the needs of the children and their families. Zach's mother echoed that sentiment at last year's luncheon. "Without this program, our children's future would really suffer. Thank you for what you've done."
The Radford University Autism Center offers assessment and intervention for individuals with autism spectrum disorders in the New River Valley, Virginia, region. The RU Autism Center is the only regional university autism clinic that provides speech-language services for individuals with autism and the center is designed to serve low-income children.
---