By Jeri E. Walker Office of Development
Mrs. Beverly Rainbolt and Barbara Golden, OES, General Counsel and Capital Campaign Consultant, at the 2009 Biennial Session in Washington, D.C. (Photo: Jeri E. Walker Office of Development)
William and Beverly Rainbolt embody the generous, philanthropic ideals of the Scottish Rite of Freemasonry. They have given of their time as well as their charitable donations. The Supreme Council is please to honor them for their generosity and dedication with portraits in the Pillars of Charity Gallery.
Bill was born in Amarillo, Texas, on March 10, 1926. He moved with his family to San Bernardino, California, when he was eleven to escape the Dust Bowl. Bill joined the US Navy ROTC during high school then attended Texas Christian University where he played in the Cotton Bowl.
In 1946 Bill married Beverly Funderburg and celebrated 60 years of marriage before his passing in July 2007. They have three children, Marla, Bill Jr., and Lara. The Rainbolts were very involved with the Family of Masonry. Marla was a Job's Daughter and Bill Jr. is a Sr. DeMolay and a Past Master of San Bernardino Lodge No. 348. Beverly is a member of the Order of the Eastern Star and the White Shrine of Jerusalem. Bill Sr. also belonged to the Al Malaikah Shrine, the York Rite, and was the recipient of the DeMolay Legion of Honor.
Bill and Beverly were in the restaurant business for 58 years. Their first restaurant, the Freezette, featured hamburgers, sandwiches, and ice cream specialties. The Freezette also offered an open freezer of frozen vegetables, new food items which had just been introduced in this country. Mac and Dick McDonald of the famous McDonald's Hamburgers were friends of the Rainbolts and were daily customers of the Freezette.
Bill loved to cook and in 1968 finally realized his dream of having a large restaurant when he designed and built the Mediterranean Restaurant. This very popular restaurant featured a formal dining room, a cocktail lounge, a coffee shop, and a banquet hall.
Bill learned of Masonry while working to build a Little League baseball park. He sent out a message that volunteers were needed, and soon, many good men came along with heavy equipment and lumber. Bill was amazed with the generosity of these men and their close friendships. He learned later that they were Masons, asked the right question, and was presented with a petition.
Bill belonged to the San Bernardino Lodge No. 348. He was raised on January 22, 1959, and served as Worshipful Master in 1970. Because of his love of Masonry, he joined the Scottish Rite in 1960, and was coroneted a 33° Inspector General Honorary in 1985.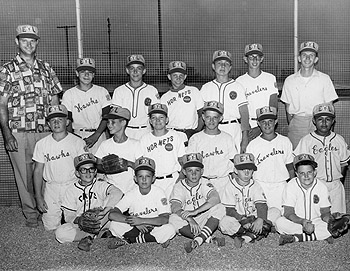 Photo: Left: Ill. William "Bill" Rainbolt, 33°, with the Little League all-star team. He learned about Masonry while building a Little League baseball park. (Photo courtesy Beverly Rainbolt)
In 1987, Bill served as Venerable Master of the Lodge of Perfection. For more than twenty years he oversaw the kitchen, with a reputation for serving the finest meals in Southern California. Bill was appointed Personal Representative by Ill. Douglas Lemon in 1988 and served until 1996.
In 1982, Bill turned the first shovel of dirt for the San Bernardino Childhood Language Center, which was renamed in 2008 "The William and Beverly Rainbolt Childhood Language and Literacy Center."
Beverly, originally from Rochester, New York, moved with her family to California. Beverly was a real estate broker, worked as an escrow officer, and was the front-of-the-house manager at the couple's restaurant. Along with her other Masonic activities, she also served as president of the San Bernardino Scottish Rite's Women's Club. Beverly is involved in the foreign exchange program and has hosted students from Japan, Thailand, Germany, and Russia.
The Rainbolts have been very involved with the Scottish Rite's learning centers for children with speech and language disorders. They have been incredibly generous to the charities that support the centers. "We both came from humble beginnings, growing up in the Depression years, seeing our parents work hard to survive, teaching us good values and the purpose of hard work," said Beverly.
Beverly and Bill witnessed the children coming to the clinic who were having great difficulty communicating. "After being treated at the clinic, the children left with self confidence and communication skills. We also heard the thanks of the parents."
Beverly remains involved with the Scottish Rite family. She brought her family to the 2009 Biennial Session in Washington, D.C. While there, they visited the Pillars of Charity Portrait Gallery in the House of the Temple where Bill and Beverly's oil portraits hang in their honor.
Bill and Beverly's legacy will continue to help the Scottish Rite children's language programs. We are deeply honored by their dedication and generosity to this organization and its charities.
For information on the Donor Recognition Program or on making a gift to our Scottish Rite Foundations please contact either Earl Ihle, 33°, Grand Cross, Director of Development at 866-448-3773, email eihle@scottishrite.org; Matt Szramoski, 33°, Associate Director of Development at 866-748-3227, email at mszramoski@scottishrite.org, Barbara Golden, Capital Campaign Consultant at (202) 777-3143, email bgolden@scottishrite.org, or Jeri Walker, Development Coordinator at (202) 777-3198, email at jwalker@scottishrite.org.
---