SR Journal Now Available via Mobile App
February 26, 2015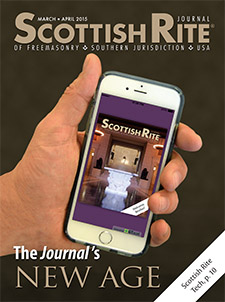 The Scottish Rite Journal's "New Age"
With the new year comes a new format for the Scottish Rite Journal. This time it's handheld, as the Journal proudly rolls out publication on all major mobile platforms: Amazon, Google Play, and iTunes Newsstand. This means that you now can have the Journal instantly delivered directly to your portable device—like tablets and smartphones—as soon as it is published and wherever you are!
While Scottish Rite members and print Journal subscribers still will be able to open their mailboxes every two months to find the latest news and notes from around the Scottish Rite, they now have the additional option of reading the Scottish Rite's flagship publication on their portable internet device—in a format designed specifically for it.
To use the new Journal app:
1. Search for "Scottish Rite" in the Apple iTunes App Store, the Google Play Store, or on the Amazon Fire App Store, depending on your mobile device.
2. Download the app.
3. When prompted, agree to subscribe—it is free.
4. New issues will be auto-delivered to you when published.
---