Knights of St. Andrew Hold First National Gathering
February 23, 2012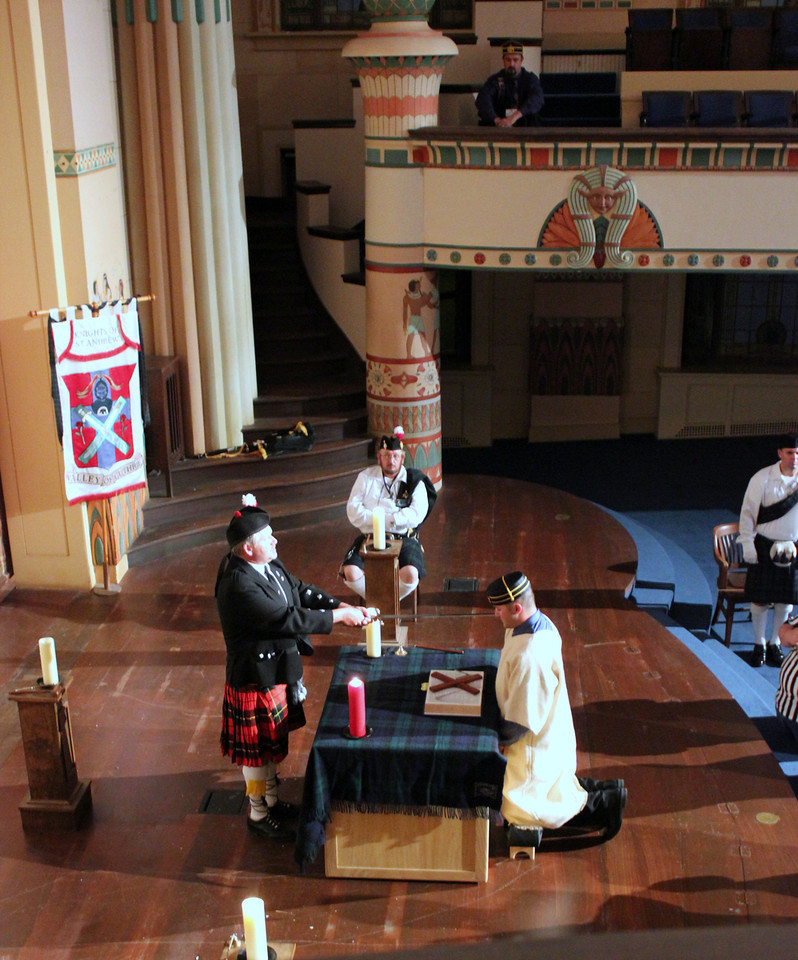 As the sound of bagpipes reverberated through the marble halls of the Guthrie Scottish Rite Center, more than eighty Knights of St. Andrew from both the Northern and Southern Masonic Jurisdictions joined together in a candle lit processional. That grand march was followed by the knighting of new members marking the end of the first day of the National Gathering.
The pageantry and beauty of the knighting ceremony was but one event in the busy itinerary. In addition, the three day agenda included Break Out/Discussion sessions on such topics as; Squires & Recruitment; Officer Training; Fund Raising & Charities; Ritual & Attire; and, Service to the Valley. These featured presentations by several Chapters including Omaha and Birmingham. The sessions were moderated by Knights from the St. Louis Chapter.
Held in conjunction with the Spring Reunion of the Guthrie Scottish Rite, the First National Gathering of Knights was attended by 122 members from 22 Scottish Rite Valleys across 17 states. Running in tandem with the 29 staged degrees of the Scottish Rite, Knights had a choice between attending a St. Andrew function or a dramatic degree presentation.
Tours of the Guthrie Scottish Rite Center were a highlight of the second day. The building was erected in the 1920's on a scale and grandeur not duplicated since. It still remains the largest building dedicated strictly to Masonic use and is listed on the National Register of Historic Places.
Ladies who accompanied their Knights on this visit to Oklahoma took part in several of the KSA meetings and enjoyed shopping in the quaint Victorian town of Guthrie.Evening meals featured a Festive Board and a Banquet.
The Knights of St. Andrew is an organization founded 19 years ago for the express purpose of supporting the individual Valley through the direction of the General Secretary. Membership is open to "Black Cap" 32nd Degree Scottish Rite Masons. On receiving the honors of KCCH or 33rd Degree, members are termed "emeritus", allowed to work within the organization but not hold office or vote. KSA is a "Black Cap" organization.
The kaleidoscope of kilts, glen gharries, and banners made a colorful weekend. As notable as the diversity of appearance was the diversity of functions among the Chapters. While all Chapters are devoted to serving the needs of their Valleys, each does so in their own way. Discussing this diversity was a hallmark of the Gathering.
Each Knight took home new ideas of service and a renewed feeling of camaraderie. The feeling of most attendees was summarized by the Master of Ceremonies at the closing of the Gathering: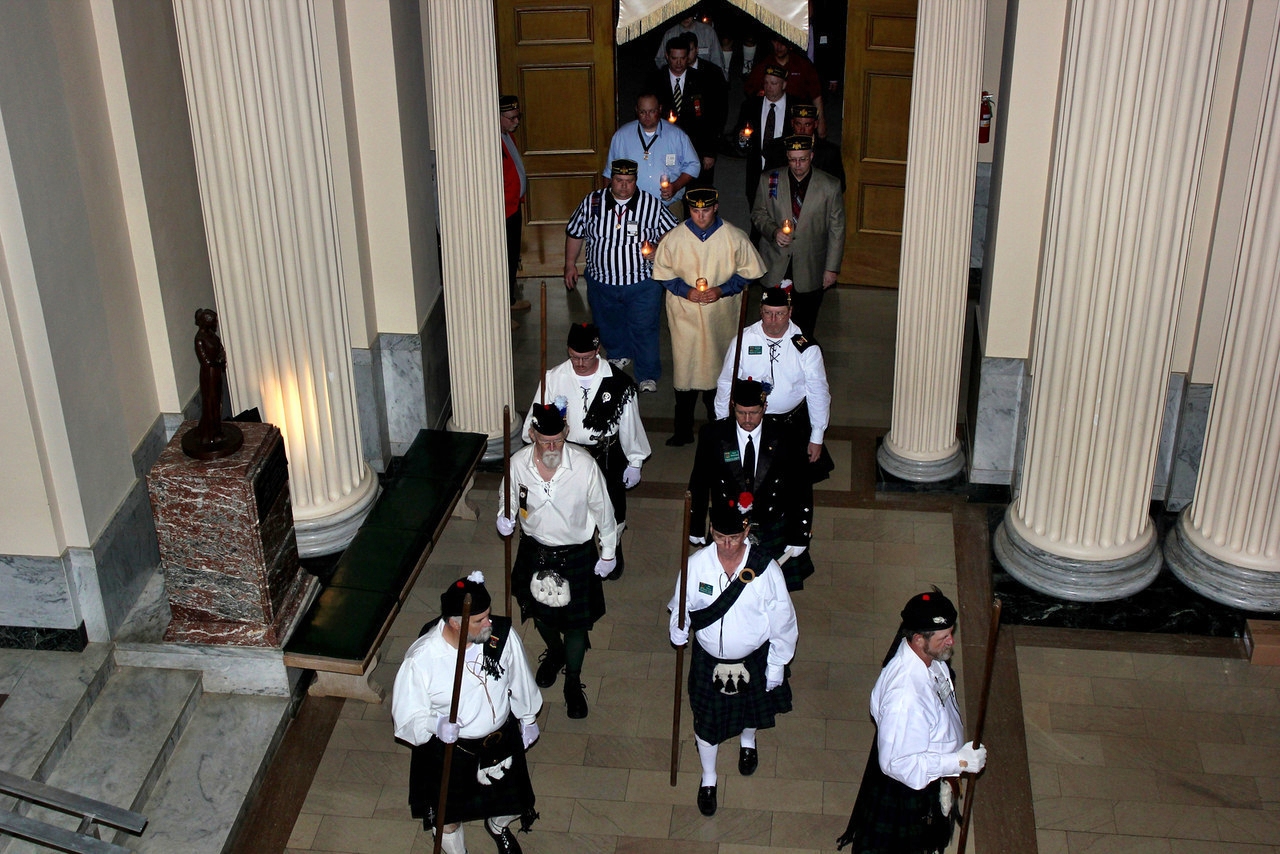 "…Over the past three days,
We have discovered new friends;
We have strengthened our bonds with those we knew;
We have recognized and embraced our diversity;
We have applauded our common goals and purposes;
We have explored our own shortcomings;
We have learned from others how to overcome and excel;
We have shared our strengths as well as our hopes.
We will leave here with a renewed resolve;
We will communicate more;
We will more completely meet the needs of our Valleys;
We will not feel alone in times of frustration or concern;
We will be the glue that holds together the best parts of
Scottish Rite Masonry;
…and…
We will come together again."
"Coming together again" will be at the Second National Gathering of the Knights of St. Andrew to be convened in St. Louis in October of 2014. FOR MORE INFORMATION CONTACT: Jim Martin, Past Venerable Master, mwa@cox.net; www.ksaguthrie.org
Top photo: After taking his vows as a Knight, Trenton Dentso is dubbed by Acting Venerable Master Tim Abdon. Second photo: A Procession of some 80 Knights and candidates enters the Atrium marching to the Knighting Ceremony.  Photos by Guthrie Knights Gene Rodgers and George Chapman
---