Visitor Information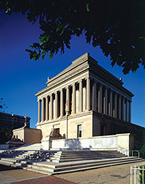 The House of the Temple
The House of the Temple is located at 1733 Sixteenth Street, NW, in the District of Columbia. Designed by famous architect John Russell Pope, this monumental building has served as the national headquarters of the Supreme Council since 1915. The Grand Lodge of the District of Columbia laid the cornerstone in 1911, and the building was completed in 1915. Its architecture is an adaptation of the famous Mausoleum at Halicarnassus, one of the "Seven Wonders of the Ancient World."
Pope is well known for his other works in the District of Columbia, including the National Gallery of Art, National Archives and the Jefferson Memorial. The House of the Temple was his first major commission in the District of Columbia. He was only 36 years old at the time he signed his contract for the building. Elliott Woods was chosen as an assistant and professional advisor.
In 1917, Pope's peers awarded him the Gold Medal of the Architectural League of New York for the design. French Architect Jacques Greber in his L'Architecture aux Etatis-Unis of 1920 described it as "a monument of remarkable sumptuousness …the ensemble is an admirable study of antique architecture stamped with a powerful dignity."
There have been few architectural alterations since the construction of the building. The House of the Temple has been open to the public for guided tours since it opened in 1915. Please join us for a tour to find out more!
(Temple image: © Maxwell MacKenzie, Washington, D.C.)

Copyright © 2013 The Supreme Council, 33°, A. & A.S.R. of Freemasonry, S.J., U.S.A.
No part of this web site may be reproduced without written permission from
webmaster@scottishrite.org
.