Our Mission & Strategic Plan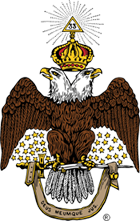 It is the mission of the Scottish Rite of Freemasonry, SJ, to improve its members and enhance the communities in which they live by teaching and emulating the principles of Brotherly Love, Tolerance, Charity, and Truth while actively embracing high social, moral, and spiritual values including fellowship, compassion, and dedication to God, family and country.
Strategic Plan
Objective 1: Fulfill the promise of additional Masonic knowledge through education and training.
Establish training programs to provide on-going knowledge and skill development
Develop programs to train members in coaching and mentoring
Establish knowledge standards for all members
Establish resources for continued learning from a basic to advanced level
Objective 2: Establish a Public Relations Department
Expand the public awareness of our philanthropic activities
Establish a media relations strategy
Establish means to utilize well-known members to accomplish the objective
Establish initiatives to educate the public about the core values of the Scottish Rite
Objective 3: Support and expand our philanthropic activities
Evaluate the current operating structure of our RiteCare® Centers
Establish standards of quality and care for our RiteCare® facilities
Establish operational national resources for RiteCare® Centers
Evaluate our scholarship programs and create standards
Objective 4: Provide a framework for effective leadership to ensure the stability and long-term success of the Fraternity
Review entire organizational structural of the Scottish Rite and evaluate its effectiveness, efficiency and utility for providing a platform for stability and a long-term success
Establish formal (and required) training programs for all levels of Organization, from Supreme Council to local Valleys to establish standard expectations of each position and provide training and skill development necessary to successfully hold the position
Improve and enhance communications capabilities throughout the Organization
Objective 5: Provide a financial process to ensure the stability and long-term success of the Fraternity
Create an organization that has strong and progressive financial planning (short and long-term) capabilities for the entire organization (i.e. Supreme Council, Orients, Valleys, etc.)
Implement appropriate changes to the structure, policies and/or procedures that will result in strong internal accounting and financial controls to ensure the adequate protection of the Organization's assets
Implement a prudent, but progressive, investment policy, for all invested funds, which is built upon responsible investment theory and, which will optimize investment return in the long term
Develop policies and controls to manage the Organization's facilities in order to support the Organization's Mission while optimizing the economics of the investments in and the operation of the facilities
Copyright © 2013 The Supreme Council, 33°, A. & A.S.R. of Freemasonry, S.J., U.S.A.
No part of this web site may be reproduced without written permission from
webmaster@scottishrite.org
.