Behind the Scenes During Celebration of the Craft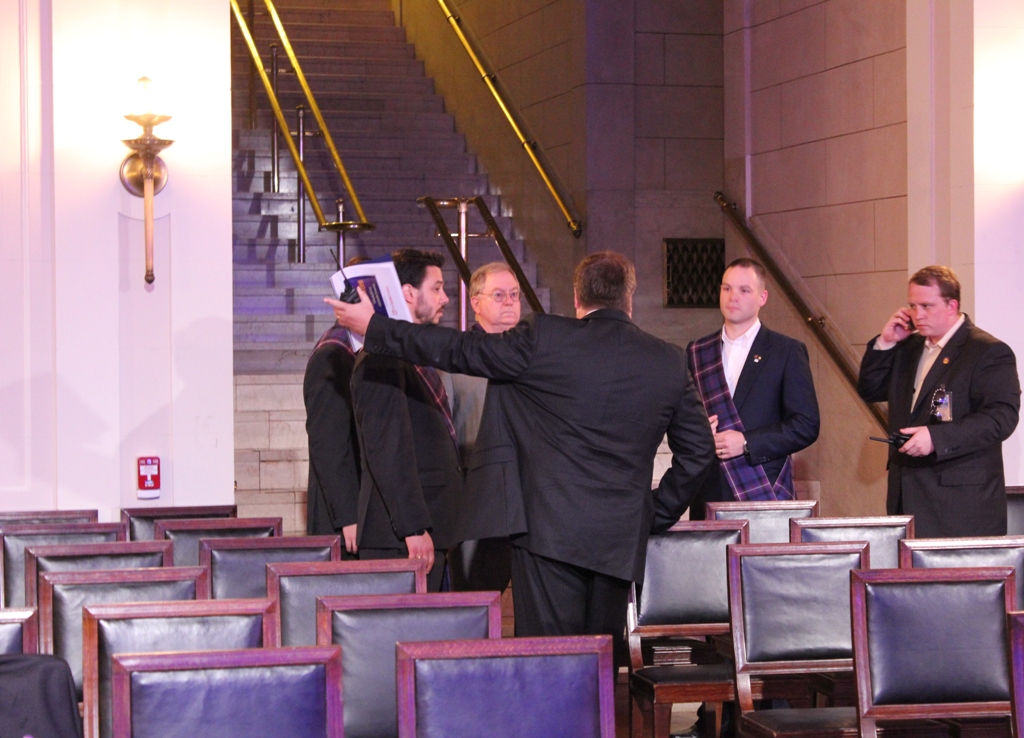 During the Celebrating the Craft Event, employees and volunteers were stationed at various places around the House of the Temple working alongside those in front of the camera. In the International Room, we had computers set up to tally donations as they came in, as well as staff working to update Masons and friends through Twitter and Facebook. We answered emails and phone calls throughout the evening on how to view the event, how to make a donation, and how to connect online.
We also had members of the staff hosting our street party in the back of the House of the Temple in the Temple Garden. Chicken, hot dogs, hamburgers, and many other goodies were served to all who attended. They even had live interviews from the street party, which were broadcast during the web event.
Some of our members were participating alongside our staff through Twitter. Jon Greene, 32° of the Valley of Tulsa (@Jon_wx5nco) tweeted, "The wife and I were just talking about what we could do for the next @The ScottishRite web event in Tulsa." This is the type of support and ideas we were trying to start with "The Celebration of the Craft." We would love for our members and those who support the goals of the Scottish Rite to think about suggestions for making this event more successful.
Flint Engleman, 32° KCCH from the Valley of Richmond (@USA_Maverick) continued this thought by tweeting, "My wife and I thoroughly enjoyed the #SRWebEvent. We too were talking about how we can help next year on a local level in our Valley." Engleman went on to tweet, "I'd love to see this become an annual web event by the SR. This #SRWebEvent c an grow and perpetuate itself. All for the RITE reasons!" Lucky for Engleman and the Scottish Rite, we have decided to make this an annual show and are already looking toward our next web event.
Nathan Digangi, 32° from the Valley of Reno (@Masonic_Pilgrim) tweeted regarding the content of the show saying, "I'm loving all these education clips about the House of the Temple #SRWebEvent. I hope they will all be available for download and review." We hope that our House of the Temple videos encouraged members to come visit our historic building in D.C. If you would like to see any of those videos again, we will have the entirety of the web event online for the next couple of months.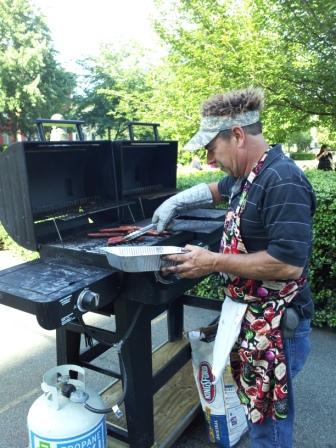 One of our tweeters, Steve Harrison, 32° KCCH from the Valley of St. Joseph (@stevenlharrison) got to talk to S.G.I.G. Jack Yost and said, "@TheScottishRite Just made my donation and had a great conversation with Ill. Jack Yost. Thanks to all for your hard work." It was our genuine pleasure to make this event enjoyable for our members. We hope the enthusiasm of S.G.I.G.'s such as Len Proden, Jack Yost, and James Cole will inspire our other brothers to get as involved as possible in our next event!
On a more inspirational note, we read a tweet from A. Lee Talley, 32° from the Valley of Portsmouth (@LeeTalley) that said, "@TheScottishRite I challenge my brothers who have a child in our speech/language programs to give $10. For my son Harry #SRWebEvent." The Scottish Rite with their RiteCare programs and facilities change the lives of children across the United States. This is a cause that not only brothers can get behind, but any families who have a child with a speech or language disorder. Freemasons affect the lives of those in their local communities thus it is important to continue to fund raise to make charitable contributions a reality.
Follow the Scottish Rite on Twitter @TheScottishRite or on Facebook at  http://www.facebook.com/pages/Scottish-Rite-Freemasonry/10285083467
Photos: Featured slide taken by Pierson Photography. Members of the staff at the House of the Temple compute donations, answer calls and emails and post updates to our social media sites. Second image: Prior to the broadcast, KSA members from the Orient of the District of Columbia get instructions on their assistance for the evening.  Photo by Heather K. Calloway.
May 22, 2012
To submit a photo or story for our "In the news" features please email 200 words or less and a digital image to Heather at hcalloway@scottishrite.org.
Copyright © 2013 The Supreme Council, 33°, A. & A.S.R. of Freemasonry, S.J., U.S.A.
No part of this web site may be reproduced without written permission from
webmaster@scottishrite.org
.